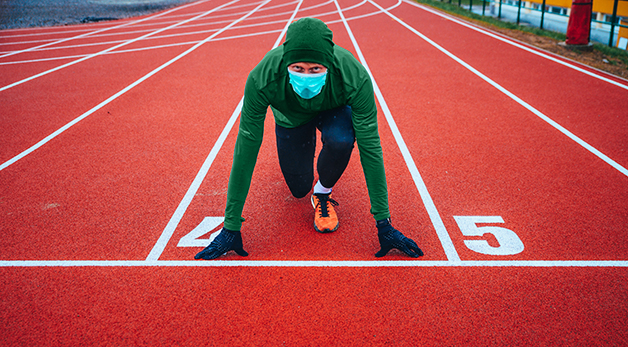 The University of Miami School of Law is launching a timely course, "The Law of Force Majeure: The Impact of the COVID-19 on Sports and Entertainment," as an online offering this summer.
Miami Law's award-winning Entertainment, Arts and Sports Law LL.M. program presents the 9-week course in response to the ongoing public health crisis, which will be hosted virtually via Zoom. The course presents an opportunity for students, legal professionals, and industry experts to share knowledge, collaboratively problem-solve, and address the impacts of the pandemic as it relates to the entertainment and sports industry.
"It is a challenging time for our world, and the entertainment and sports industry is certainly not immune to the impacts of COVID-19," said Greg Levy, director of EASL. "We hear projections of hundreds of millions, if not billions, of dollars of loss; leagues have folded, and organizers have postponed the Olympics for an entire year.
"It is affecting individuals at every level of the industry and will continue to reverberate for years to come. We wanted to be sure our program was addressing these issues as they were unfolding to allow our students to aid the industry in constructive and proactive problem-solving," he said.
Levy and Peter Carfagna, co-director of EASL's sports track, designed the offering in response to the robust conversation that took place on some of the topics at the annual Global Entertainment and Sports Law + Industry Conference on April 3.
Carfagna and Senior Vice President and General Counsel of the Miami Dolphins and Hard Rock Stadium, Myles Pistorius, will facilitate the course that includes discussions from industry-leading experts each week.
The course, that begins on May 20, 2020, opens with framing the law of force majeure through an analysis of drafted clauses, how courts have interpreted different language, and how these clauses may change moving forward in light of COVID-19. It will also examine how unavoidable business interruption insurance operates in times of pandemics. Also, participants will be provided an experiential learning opportunity as they will be asked to work through weekly hypothetical scenarios and drafting exercises.
"The current pandemic continues to raise unique legal issues, including the impact of force majeure provisions and related common law doctrines on commercial transactions throughout the sports industry," said Pistorius. "Having spent 20+ years grappling with these issues in representing a major sports league, NFL club, and a world-class entertainment venue, I look forward to working with Professor Carfagna and sharing my experiences with University of Miami law students in the classroom, or virtual classroom."
Another session, "Survive and Advance: The Legal and Cultural Impacts of COVID-19 on the Future of College Sports," will be jointly presented by Tom McMillen, president and chief executive officer for Lead1 Association; Congresswoman and former UM President Donna Shalala, and Richard Giller, a partner at Pillsbury. The unit addresses the current and future impact the pandemic will have on the landscape of collegiate athletics.
Other notable experts for the course include Kim Miale, an NFL agent and general counsel for Roc Nation Sports; and Megha Parekh, senior vice president and chief legal officer for the Jacksonville Jaguars, who will participate in the "Force Majeure and Impact-Professional Teams, Leagues and Athletes" session. The unit will address the impact on revenue streams, operations, collective bargaining agreements, and individual players' endorsement agreements.
LPGA's Chief Legal and IT Officer Liz Moore will help examine the impact of the pandemic for various stakeholders on individual sports.
Other notable topics include the 2020 Olympics postponement, with U.S. Olympic Committee General Counsel Chris McCleary; and a unit on the impact expected on TV, film, and festivals industry with NBCUniversal Telemundo Senior Vice President and General Counsel Ana Salas Siegel.
"Like our entire program, the quality and diversity of our guest speakers in this course are world-class," Carfagna said. "We sincerely appreciate the outpouring of support from our EASL network, which allows us to offer this new initiative on such short notice. This support continues to make our program unique as we continue to deliver timely and innovative curricular offerings, which has helped us attain our 'Top 10' ranking."
A subgroup of rising second-year students enrolled in the course will be posting weekly blog entries that focus on relevant legal analyses of topics studied which will conclude with a white paper; follow along here. 
"The Entertainment, Arts and Sports Law LL.M's focus is on providing relevant education and the opportunity for experiential learning," said Levy. "Miami Law will continue to deliver innovative offerings to our community and convene spaces for thoughtful learning and dialogue on the most pressing issues facing the industry."