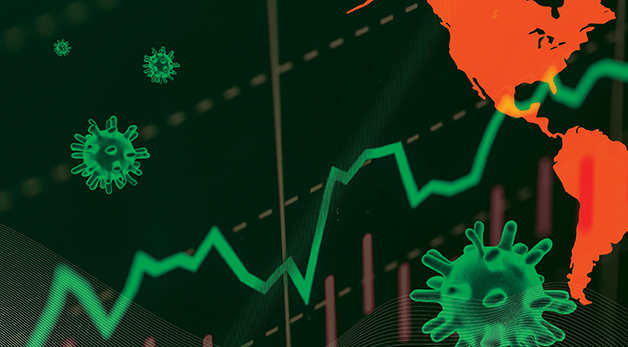 On May 20, Miami Law's International and Graduate Programs Office will convene a conversation among experts in trade and investment law to consider the impact of COVID-19 on economic flows and legal systems in the Western Hemisphere. The event, "Trade and Investment in the Hemisphere Under Crisis: Where We Go from Here," will focus on how international economic developments are and will be affected by the pandemic.
"The conference brings together many of the region's thought leaders in international economic law who are recommending policy changes surrounding actions and reactions to fallout from the global pandemic," said Kathleen Claussen, who is co-lead faculty for the event. "It provides access to these pivotal experts and discussion of novel ideas that are being explored or implemented throughout the Americas."
The bilingual event is jointly hosted by UM Law International and Graduate Programs and Colombia's Externado University's Economic Law Department.
The program will open with remarks by Miami Law's Anthony E. Varona, dean and M. Minnette Massey Professor of Law, and José Manuel Álvarez-Zarate, who leads the department of international economic law and master's program at UExternado.
Álvarez is an expert in international economic law in Colombia and Latin America, and member of the Latin American Network of International Economic Law. Miami Law and UExternado have an academic collaboration agreement.
The conference, part in English and Spanish, will feature two panel sessions from 3 p.m. until 6 p.m. The first, "Trade Dynamics in a Pandemic," will be moderated by Alvarez, and include speakers Nicolas Cobo, Pontificia Universidad Catolica in Chile; Carolina Palma, University of Costa Rica; Michelle Ratton-Sanchez, Law School of Getulio Vargas Foundation; and Victor Saco, Pontificia Universidad Catolica in Peru.
"Changes in Investment Restrictions and Flows due to COVID-19," will follow with Claussen moderating and speakers including Sebastian Espinosa, Legal Secretariat of the Presidency of Ecuador; Fabio Morosini, Federal University of Rio Grande do Sul; and Enrique Prieto-Rios, Rosario University.
The mini-conference is co-sponsored by the Latin American Network for International Economic Law, the American Society of International Law International Economic Law Interest Group, and the American Society of International Law Latin America Interest Group.
For more information and to register for the free webinar, visit here.