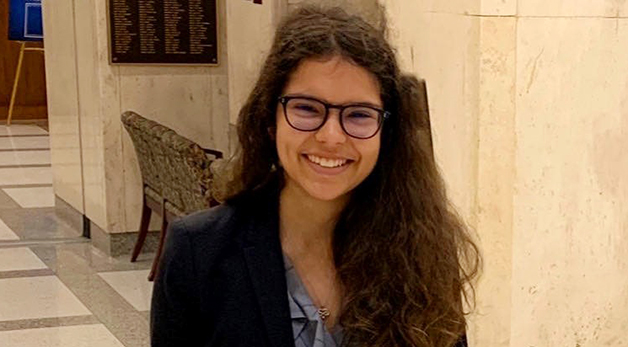 Ariana Aboulafia
The summer after my second year of law school, I was privileged to receive a HOPE Fellowship from the HOPE Public Interest Resource Center here at Miami Law. That fellowship not only funded my summer internship at the Miami-Dade Public Defender's Office – where I will be working after graduation – but also provided me with the opportunity to bring some of my work back to our campus community.
Punitive Effects of Some Driver's License Suspensions
One of the most salient issues faced by low-income individuals moving through the criminal justice system is an inability to pay court-imposed fines and fees, as well as the collateral consequences of this inability to pay – namely, driver's license suspensions. When a low-income individual's driver's license is suspended, they may be unable to attend work; this then negatively impacts their ability to provide for their families, pay for necessities, and pay off their court-imposed fines and fees. The problem is pervasive, with two million Floridians currently unable to drive legally due to their inability to pay court-imposed fines and fees.
Getting Involved in Fines and Fees Reform Movement
Representatives from the Fines & Fees Justice Center – a hub for the fines and fees reform movement, which works with impacted communities, researchers, advocates, and legislators in New York, Florida and beyond – reached out to the HOPE Public Interest Resource Center. They described their goal of passing legislation in Florida that would prevent these driver's license suspensions for failure to pay fines and fees, and proposed ways that Miami Law students could get involved.
As part of our HOPE Fellowships, two other HOPE Fellows, 3L Miami Scholar Maddie Seales and 2L Erica Auer, and I teamed up with the Fines & Fees Justice Center to plan and lead an Alternative 2019 Fall Break in which participating Miami Law students spent part of their fall break interviewing individuals at the Richard E. Gerstein criminal courthouse regarding their experiences with court-imposed fines and fees and driver's license suspensions.
Traveling to Florida's Capital as Part of Advocacy
This month, I had the opportunity to travel to Tallahassee and join the Fines & Fees Justice Center in their work there. In particular, I was able to observe a press conference and sit in on meetings with legislators where we discussed the bill currently pending in the Florida House and Senate aimed at ameliorating issues surrounding driver's license suspensions for failure to pay fines and fees. The experience exposed me to a new side of law, advocacy, and lawmaking – as well as several career paths – that I would not have otherwise known about. Meeting with legislators and legislative staff, attending a press conference, and even simply walking around Florida's capital city combined to create an unforgettable educational experience for me.
My favorite thing about Miami Law is that our commitment to education and advocacy does not end at the classroom door; rather, Miami Law offers opportunities for learning and engagement not only in the city of Miami, but also throughout the state of Florida – and, indeed, the entire country and beyond.
I am so grateful to attend a law school with such a commitment to creating well-rounded attorneys, who engage in public service and utilize their educations to better their communities, and am looking forward to continuing to support Miami Law – and this mission statement – as an alumna after my graduation this May.
More on the HOPE Public Interest Resource Center