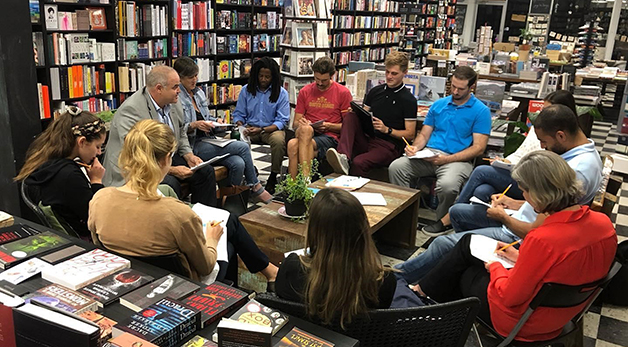 Environmental Justice Clinic Interns Bethany Blakeman and Gabriela Falla along with EJC Director Natalie Barefoot at the Underwater Homeowners Association Focus Group Meeting
Climate change, the effects of which will be felt most acutely by the poor and marginalized, is one of the most significant social justice issues of our time. In South Florida, communities are already living with and adapting to our changing climate and our rising seas.
Miami Law's Environmental Justice Clinic takes up the mantle of climate leadership by developing innovative legal tools to address the effects of climate change and pressing government entities to consider seriously social equity concerns when discussing global warming. The EJC's work in the climate space has begun this semester with projects addressing climate displacement, and educating and informing residents on sea-level rise risks.
Climate gentrification occurs when climate-driven development -- targeting areas more resilient to the effects of climate change such as those in higher elevations, for example -- and displacing existing low-to-moderate-income marginalized communities (typically communities of color). Not only are the social fabric and cultural history of these communities torn apart, but usually people are displaced into areas where they are more at risk to the effects of climate change. To address climate gentrification, the EJC is working with stakeholders to design a displacement tool to assess and mitigate the risk of direct and indirect displacement of protected classes and vulnerable populations created by proposed developments. The tool will allow government entities to identify, monitor, and assist people susceptible to displacement. Importantly, it will enable the city and county to work collaboratively with developers and community residents to design and implement mitigation strategies.
"In order for us as a city to be a transcendent global city, we have to be mindful of whether our vulnerable populations are being displaced as a result of rapid development," says Sam Ludington, an EJC intern.
In developing the tool, EJC students have performed research, including examining how other municipalities across the nation are addressing climate displacement. They have also interviewed experts, attended community meetings, and participated in relevant workshops.
The City of Miami, as reflected in a resolution passed in November 2018 to study the issue, acknowledges and is concerned about the effect of climate gentrification. It is also, as demonstrated through its Miami Comprehensive Neighborhood Plan, concerned about preserving the character and quality of its communities.
"Because Miami espouses these goals and policies," says Hannah Hays, EJC intern, "we want to create a concrete plan about how to further [these objectives], and those do not necessarily exist right now as it stands. We have goals, we have objectives, but we do not have a plan to mitigate displacement of people and further these goals."
The EJC endeavors to provide one avenue, through the displacement tool, to reach these objectives by mitigating the effects of displacement and ensuring an equitable and inclusive Miami.
Additionally, the EJC has its eyes on protecting future home buyers and renters in Florida who are often unaware of the risks they face and will face in their home due to sea-level rise and climate change. The EJC is researching the benefits to individuals and communities when they can make informed decisions about flood risk in real property transactions and the legal mechanisms to provide disclosures or notices.
"At the end of the day, this is about people, and about protecting buyers and renters who are unaware of the severity of the risk associated with where they choose to reside and buy property," says Bethany Blakeman, EJC intern. Even though Florida is a peninsula surrounded by constantly rising seas, Florida ranks as one of the worst states for flood risk disclosures according to research conducted by the Natural Resources Defense Council in collaboration with the Sabin Center for Climate Change Law.
The EJC believes it is imperative that Floridians have adequate notice of the flood risks where they live in order to make informed decisions about their future. As part of their project on climate risk disclosures, EJC interns Blakeman and Gabriela Falla met with community leaders and activists at the Underwater Homeowners Association focus group to elicit feedback. Community members embraced the concept, indicating that access to information was critical, mainly due to the problems our community faces with sunny-day flooding, sea-level rise, hurricanes, and other climate-related risks. This localized feedback tracks with what the national public opinion is on the issue. According to a recent survey conducted by the Pew Charitable Trusts, 74% of Americans support a federal requirement of providing potential buyers with a property's flood history. Students in the EJC are also getting exposure to how Miami views and is addressing issues of climate change by getting out into the community. Examples include attending the monthly City of Miami Climate Resilience Committee (which consolidated the City of Miami Sea Level Rise Committee and the Waterfront Advisory Board) meetings; participating in relevant conferences, workshops, and events; taking part in national climate change conversations, and collaborating with competent experts.
"Coming together with community members and forming allies with groups working towards climate change mitigation and adaptation is imperative to create workable solutions addressing the challenges and obstacles facing Miami," says Falla.