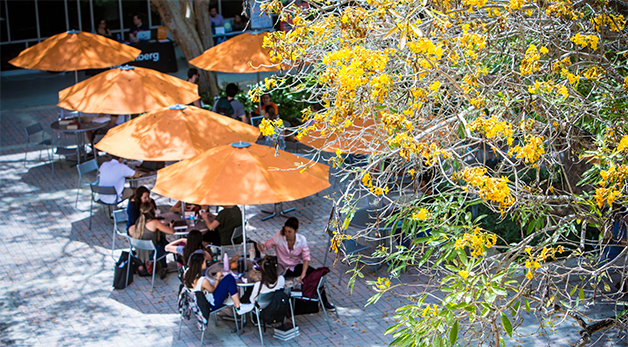 The National Association of Law Student Affairs Professionals selected the Miami Law Student Services team for their 2020 NALSAP CORE Four Award.
Established in honor of the four NALSAP founders, the NALSAP CORE Four Award is awarded annually to an individual or institutional member who demonstrates the competencies, values, and ethics of the very best law student affairs professionals. The recipient shows strength in four core areas: collaboration; outstanding service; respect and commitment for diversity, equity, and inclusion; and excellence in leadership.
"Dean Stearns and her team have been super-heroes" said Anthony E. Varona, dean and M. Minnette Massey Professor of Law, "providing exceptional service to our entire student body for years, and especially in these months of the pandemic."
Janet Stearns has served as Miami Law's dean of students since 2007. She is the immediate past chair of the Association of American Law Schools Student Services Section and is a member of the American Bar Association Commission on Lawyer Assistance Program, where she spearheads national programming around law student well-being including the national Mental Health Day each Fall. Stearns has presented each year at the annual NALSAP conference, and has recently published an influential article on suggested reforms to the bar's character and fitness process. Stearns ensures close collaboration with all University of Miami resources to provide seamless service to the law school community.
Amy Perez, director of student life, focuses on student development and well-being initiatives. She is the mastermind behind the law school's orientation and works with many of the student organizations. Amy recently received the prestigious National Association for Law Placement's Service Excellence Award for Distinguished Service, and served as Chair of NALP's Lawyer and Law Student Well-Being Task Force.
Vanessa Kuljis, director of professional development and leadership initiatives, is committed to new approaches to cultivating and mentoring the next generation of lawyers. Vanessa's passion for student development and coaching extends to financial literacy and is the Miami Law Liaison to Accesslex. She is a Gallup-Certified Strengths Coach, a certified yoga instructor, and a MINDFRESH corporate mindfulness instructor.
William VanderWyden, assistant dean for professional development has been running the highly successful Partnership for Professionalism for 29 years. He guides Miami Law students through the bar application and character & fitness process with exceptional patience, and is also dedicated to law student recruitment and networking with Miami Law's alumni.
Jessie Howell, director of Student Accessibility and Inclusion, provides one-on-one, individually tailored support to law students, supporting them in addressing myriad physical and other disabilities. Howell is a first generation graduate herself and passionate about supporting first-generation law students.
The award also recognizes the collaboration with the innovative work of Scott Rogers, who directs the Mindfulness in Law program and integrates contemplative practices with cutting-edge neuroscience research to share with students as ways of optimizing performance; the Academic Achievement Program (directed by Alex Schimel and Rodney Rawls); Associate Dean Greg Levy, who oversees the integration of academic and student services; Assistant Dean Marni Lennon and her pioneering work in fostering the public interest mission and pro-bono ethos at Miami Law; and Marcelyn Cox, assistant dean for Career Development, a national leader on issues of diversity, equity, and inclusion, and former NALP President.
"Serving the Miami Law family is a passion for me and our team" said Stearns. "I am proud of the depth and breadth of our support services that arm our students with the resources they need to succeed personally and professionally in law school."
"The award showcases Miami Law's commitment to creating an environment where our students can succeed," said Katrin Hussmann Schroll, associate dean of admissions. "We have a team in place dedicated to supporting our students every step of their law school journey."
NALSAP was founded in 2016 to serve law school student service professionals, and the Miami Law team has been active members since its inception. The award will be presented at the virtual annual meeting on June 30, 2020.
See list of services for Miami Law students.