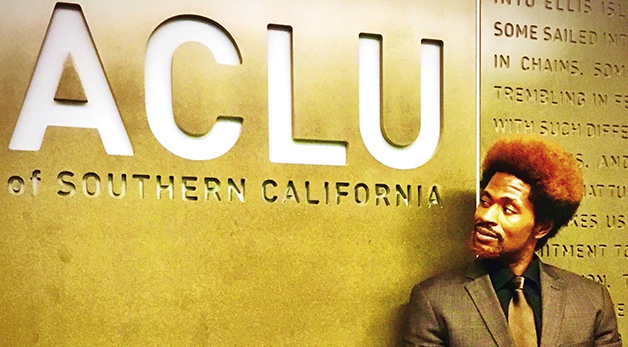 Amir Whitaker, J.D. '14
Amir Whitaker says Miami Law gave him a sword.
The 35-year-old from Plainfield, New Jersey, already had a voice. Violence and incarceration were the fabric of his young life; Whitaker knew his only path out was education – earning his bachelors from Rutgers University, an Ed.D. in education, a Ph.D. in educational psychology from the University of Southern California, and his J.D. from Miami Law in 2014.
Whitaker's current "day" job at the ACLU of Southern California sees him active in education and youth justice issues, which mirrors his outside advocacy with Project KnuckleHead, a program he established while a second-year at Miami Law that works toward diversion from the school to prison pipeline. Miami Law students, "the Hurricane network" who volunteered to support the program, are still a vital part of the mission eight years later.
"I came to law school to better understand justice and having questions about inequalities after grad school," he said in a recent interview. "I didn't even want to be a lawyer. But in working in the public defender's office and in Miami Law's Center for Ethics and Public Service, in every state I go, I use lessons that I learned there. CEPS was one of the most valuable things I did at Miami Law.
"During law school, both of my brothers were incarcerated," he says. "It forced me to see contradictions in the system and want to work for that change. My internship at the Southern Poverty Law Center fed into that and I ended up a staff attorney there."
Whitaker knew from his research at USC that disenfranchised youth often do not have positive outlets for their time. "I knew also that those pathways saved me and kept me out of trouble, like putting creative and positive time into my love for music and other forms of art," he says. "Even when I was in law school, I was part of the UM Salsa Club and in different bands. With the pressure of studying, it was a necessary outlet."
Under Whitaker's program, Project KnuckleHead, justice-involved youth and traditional high-school students are invited to college campuses for "Dreams Into Goals" youth summits to hear speakers, take college tours, and participate in other activities as a way of improving their attitudes about education.
"Most students who drop out of school do so because of motivational problems," Whitaker said. "Only three of my 18 friends graduated high school, all but two of us entered the juvenile justice system, and all but six entered the prison/jail system. At least five have been shot, and I am the only one to graduate from college. I'm not sure of the exact rate of soldiers being shot, but it is significantly lower than the percentage of my friends who have been shot."
Whitaker has taken the program throughout the U.S. and to six countries to engage with underserved communities and incarcerated youth through music, art, and education.
Before joining the ACLU in 2017, Whitaker represented students and incarcerated youth throughout Florida and Alabama for the Southern Poverty Law Center and has negotiated settlements and policy changes improving the lives of hundreds of thousands of children.
Whitaker is the author of The KnuckleHead's Guide to Escaping the Trap: Abridged Trilogy that follows his journey through the challenges that have molded him into an agent of change. He also is featured in documentaries like "Finding Justice" on BET, "America Divided" with Jesse Williams, and "Resist" by Patrisse Cullors, co-founder of Black Lives Matter.
The current board chair for the Arts for Incarcerated Youth Network in Los Angeles, a collaborative of 12 organizations providing arts programming to incarcerated youth throughout the county, he has delivered keynote speeches to thousands, and written for leading publications across the country, including The Washington Post and TIME Magazine.
"I chose Miami because it sits in a community of high need, and also to go to the South as a pilgrimage for justice," he says. "I came away a changed man with mission and with access to spaces and rooms not previously available. I am now a man with a sword to wield for the voiceless."
More on Social Justice Opportunities at Miami Law