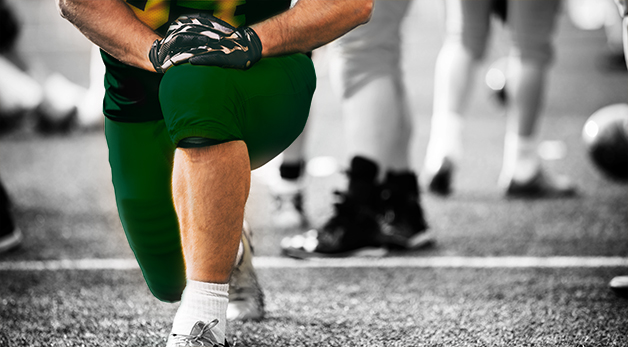 Two of Miami Law's student organizations, the Black Law Students Association and the Entertainment and Sports Law Society, recently hosted a virtual panel titled "The Intersection of Race, Law & Sports: A Virtual Conversation with UM Athletes and Scholars."
Jordan Gary, Vice President of BLSA, and Nicole Osgood, Marketing Director of ESLS, moderated the conversation and were joined by panelists Taylor Burrell, Xavier Coakley, Zach McCloud, and Michelle Atherly, all of whom are student athletes at the University of Miami.
"It is important that we are discussing Black issues right now, and it is especially important that we discuss inequalities beyond just police brutality, even though that is a vital problem to discuss," Gary said. "The fact of the matter is this country was founded in racism, and these problems have plagued us since then. So naturally, we are going to have to address racism and inequality in every aspect of our lives. Sports is one area where race issues do not get addressed nearly enough, and I am glad that we could have this conversation and address some of the nuances of race within sports."
The virtual discussion centered on what it means not only to be a student athlete at a Power Five Institution, but a student athlete of color. The panelists discussed the importance of social media and how their posts not only represent themselves but the university as a whole. The conversation also included the panelists' personal experiences of being Black student athletes at the University of Miami. Some panelists noted that they have experienced either mistreatment, such as microaggressions, or favoritism because of their roles on campus. Moreover, the female athletes discussed the inequality that exists between women's and men's athletics. Other key points of discussion included ways student athletes cope with these experiences and ways the athletic department guides them in business matters off the field and provides the necessary education to be successful.
"I learned so much from all of the participants not only in the conversation itself, but during the planning of the event as well," Osgood said. "DeVena and Jordan put immense labor into this event, and I cannot thank them enough for that. Our panelists were all incredibly insightful while sharing their experiences as Black student athletes. Hearing about how those aspects of their identity affect their daily lives in the classroom, within their sport, on campus, in Miami, or even on social media opened up so many avenues for attendees to continue the discussion even after the event."
Additionally, the panelists discussed the importance of Name, Image, and Likeness legislation as the NCASS recently announced that student athletes will be able to profit off such. At the University of Miami, the student athletes hope that the school is able to provide them skills to navigate through these new financial avenues. The panelists also discussed the challenges faced in their upcoming seasons due to the COVID-19 pandemic.
"I really hope that this event was just the beginning of this discussion in the Miami Law community," Gary added.
More on Public Interest and Social Justice at Miami Law
More on Sports Law at Miami Law