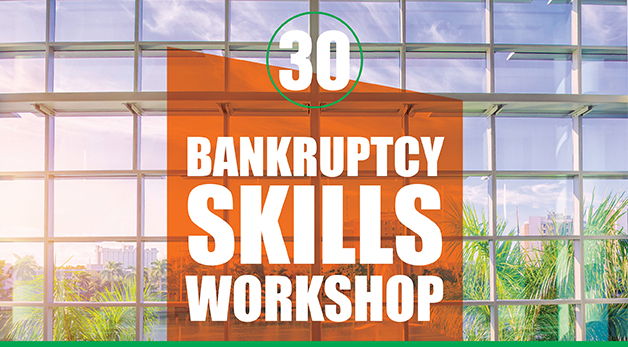 The 30th Annual Bankruptcy Skills Workshop focuses on where the practice of consumer bankruptcy is going and more complex issues that arise in the Southern District of Florida on Friday, August 7, 2020, from 9:00 a.m. until 11:00 a.m.
The first session, "Using the New Small Business Reorganization Act" examines the Small Business Reorganization Act of 2019 and its ramifications for small businesses under Chapter 11. The panel includes Grace Robson, counsel for the debtor; Maria Yip, a subchapter V trustee; Nancy J. Gargula, the United States trustee for regions 10 and 21, and moderated by Miami Law Professor Andrew Dawson, Judge A. Jay Cristol Professor of Bankruptcy Law and vice dean for academic affairs.
The second session, "Updated Court Procedures and the Court's Use of Technology in Response to COVID-19," outlines the changes to the clerk's procedures and CM/ECF to accommodate social distancing and reduce the risk of exposure. The overview of how telephonic and video technology in the courtrooms have allowed for cases to move forward and practice tips for better advocacy using technology will be discussed by Joe Falzone, clerk of court for the United States Bankruptcy Court for the Southern District of Florida, and Judge Mindy Mora and Judge Eric P. Kimball of Southern District of Florida, West Palm Beach division.
The event's steering committee includes Chief Judge Emeritus A. Jay Cristol, United States Bankruptcy Court of the Southern District of Florida; and practitioners Barbara L. Phillips, Jerry M. Markowitz, Kelly K. Roberts, and Daniel N. Gonzalez.
Registration fees support the Louis Phillips Scholarship Fund at the University of Miami School of Law. The cost to register is $50 and includes course materials. 2.0 general CLE credits, including one in ethics, and one in technology, are pending approval of The Florida Bar.
For more information, contact Sabrina Segura at segura@miami.edu.