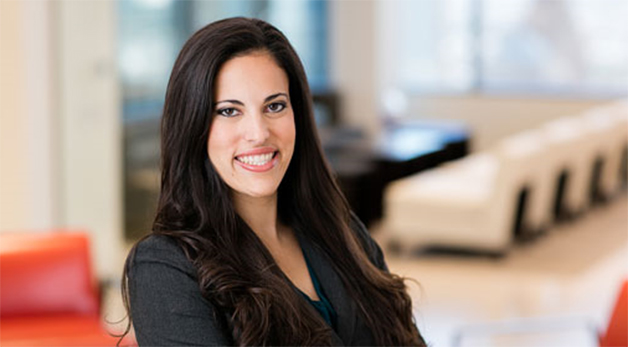 Elizabeth Fata Carpenter, JD '16
Miami Public Interest Scholar and alumna Elizabeth Fata Carpenter, JD '16, seems to have cracked the code for "walking the walk" when it comes to public interest study and practice. The secret? Ask her and she'll likely tell you that it is to "define success for yourself." It's a process she knows a thing or two about.
Fata Carpenter's trajectory to environmental law both before and after law school has not been a cookie-cutter, paper-to-practice story. She graduated from the University of Florida with a Bachelor's Degree in Psychology and double minors in Environmental Science and Sustainability Studies. Following graduation, she chose to focus on her minors, spending time in Oregon as a park ranger, and in Kodiak, Alaska, monitoring sustainable salmon fisheries, before enroling at Miami Law.
While she knew environmental law was the goal from the outset, Fata Carpenter doesn't think of her time in law school as a means to an end. Despite a packed extracurricular schedule that revolved around moot court, serving as the International and Comparative Law Review Editor, and participating in the Environmental Justice Clinic, she largely enjoyed school in its own right, and, in particular, feels that her experience as a Miami Public Interest Scholar helped to shape the attorney she is now.
Fata Carpenter credits the HOPE Public Interest Resource Center with teaching her the importance of being an effective advocate and honing your own advocacy skills, as well as the value of coalition-building. She learned that you should never wait for someone else to make a change or to solve a problem. "Be that someone," she says.
Despite her obvious commitment to public service, Fata Carpenter's career began with a three-year stint at Cozen O'Connor, where she developed invaluable litigation skills and had the opportunity to serve as the pro bono director, facilitating partnerships with an array of advocacy networks. Notwithstanding the financial incentives to stay in private practice, she followed her passion into environmental advocacy.
Navigating the disparities that can exist between public interest and "big law" is a process that Fata Carpenter acknowledges comes with no small amount of emotional and intellectual challenge.
"There's a lot of pressure from people who think they know what's right for you and what success means," she said. "Do what's right for you. Define success for yourself. And remember that what's right for you now might not be right for you in five years, so give yourself room to transition and grow. Everyone graduates with a different set of circumstances."
Now, Fata Carpenter says, she is in public interest law for the long haul and has no professional regrets. Along with two other lawyers, she works as a staff attorney for Everglades Law Center, which she describes as a "small but very effective non-profit" that focuses on advocating, negotiating, and litigating to restore the natural ecosystems of South Florida, including, but not limited to, the Everglades. Part of what she loves about her work is how nimble and multifaceted her practice is. As she describes it, ELC amounts to a comprehensive environmental advocacy shop where uses her skills to address everything from how pesticide and herbicide application affects water quality to land-filling issues and their potential impact on endangered wildlife.
Fata Carpenter's advice to law students is to' "fight the tunnel vision" and never let someone else define success, in law school or after law school, for you.
More on studying Environmental Law at Miami Law