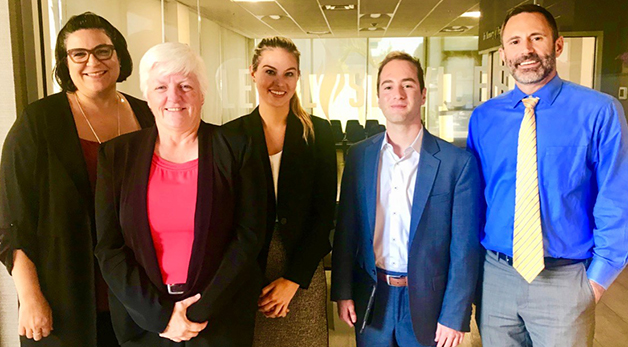 Monica Vigues-Pitan, LSGMI Executive Director; Alice Kerr, Anne Marie McLaughlin, Ashton Malkin, and Jeff Hearne, LSGMI Director of Litigation
The Professional Responsibility & Ethics Program recently visited with attorneys at both Legal Services of Greater Miami and Catholic Charities Legal Services to discuss legal ethics and technology. Supervised by PREP director, Jan L. Jacobowitz, and in collaboration with the attorneys, PREP students presented customized, interactive hypotheticals that focused on recurring issues that confront attorneys at each organization.
At LSGMI, Ashton Malkin analyzed the ethical implications that might arise when a client is asked to sign a confidentiality clause during settlement negotiations. To further enhance the discussions, Malkin also presented a scenario where the client received a higher settlement amount than was originally agreed upon. "Creating and presenting a CLE training at Legal Services of Greater Miami was an invaluable experience that allowed me to step outside of the classroom and connect with professionals in the community. By doing so, I was able to discover how practicing attorneys might apply our hypothetical fact patterns to real-world issues," said Malkin.
Anne Marie McLaughlin presented scenarios involving a client with diminished capacity and her daughter who had executed a deed transfer of the client's house. The discussion focused on an attorney's obligations under Florida Rule of Professional Conduct 4-1.14: Client Under a Disability. "I had a great experience," said McLaughlin. "We facilitated a lively discussion about complex, real-world legal ethics issues and learned about the varying perspectives among the attorneys."
At Catholic Charities, John Vazquez's presentation prompted a thoughtful discussion about the ethical challenges that immigration attorneys encounter, such as conflicts of interest, communication with clients whose first language is not English, and candor towards the tribunal. "The visit to Catholic Charities was a great opportunity to discuss legal ethics with immigration practitioners who deal with complex legal issues on a daily basis," said Vazquez.
Meanwhile, Jordan Luczaj discussed the ethical implications associated with the use of technology in the practice of law. "Presenting at Catholic Legal Services was an amazing experience because we got to see our legal research come to life into an engaging presentation that facilitated some productive legal ethics discussions," said Luczaj.  He found his role in the presentation to be incredibly rewarding because he learned not only about immigration law but also about the importance of understanding technology for today's lawyer.
PREP is an award-winning program that develops continuing legal education ethics trainings for the legal community. The program combines the attributes of an ethics institute and an ethics clinic. It has dedicated hundreds of student hours to public service, as well as educated thousands of members of the Bench & Bar. During training, students are often able to make a positive impact on attendees by prompting them to consider and reconsider their approaches to some of the toughest ethical dilemmas that may arise in the practice of law
In 2012, PREP was recognized by the ABA with its E. Smythe Gambrell Professionalism Award, the leading national award recognizing programs and projects contributing to the understanding and advancement of professionalism among lawyers and judges.
In addition to presenting ethics trainings, throughout the semester PREP students publish blog posts regarding the nation's newest ethics opinions. The blog, Legal Ethics in Motion, can be found here.