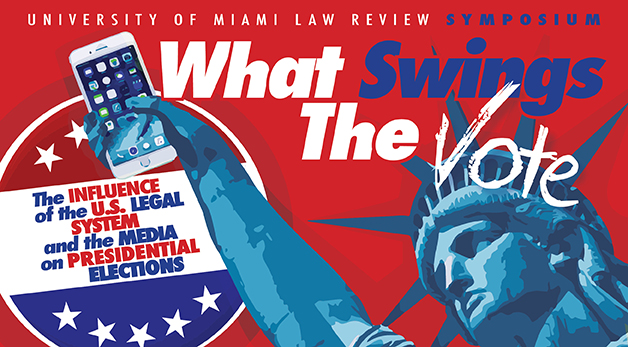 "What Swings the Vote? The Influence of the U.S. Legal System and the Media on Presidential Elections" is the focus of the 2020 University of Miami Law Review Symposium on Friday and Saturday, February 7 and 8, on the Coral Gables campus.
The two-day event takes a critical look at the relationship between fundamental, constitutional rights, legal structures, and substantive issues that influence voting and election outcomes.
Among the experts, Desmond Meade, executive director of the Florida Rights Restoration Coalition, chair of Floridians for a Fair Democracy and the Florida Coalition on Black Civic Participation's Black Men's Roundtable, will be joining Miami Law's Vice Dean Lili Levy and Professors Frances Hill, Jessica Owley, Rebecca Sharpless, Kathleen Claussen, and Elizabeth Iglesias and adjunct professor Ira Kurzban. 
Keynote speaker Barry Richard, J.D. '67, is a shareholder at Greenberg Traurig P.A. In 2000, Richard represented George W. Bush in the Florida litigation that determined the presidency. Last year, he represented Andrew Gillum in the Florida gubernatorial recount.
With the 2020 presidential election taking place this year, there is no better time to bring top of mind awareness to those forces, some obvious and some not so obvious, that influence voter decisions and election outcomes, wrote symposium editors and third-year law students Giselle Sardiñas and Caitlyn Cullen.
The conference will tackle the tension between the constitutionally protected rights of individuals, states, and the federal government when it comes to national elections, both framed by the perspectives of individual voters and government actors in determining election outcomes.
Additionally, panels will explore the substantive issues that voters consider when choosing a candidate and the forces that inform the way they think about these issues. From Obama's "Hope" campaign to Trump's Twitter-centric campaign (and presidency), the ability of candidates to interact with voters directly through social media, rather than through the filter or viewpoint of news outlets, has changed the landscape of publicity and political discourse for presidential candidates.
There will be time spent in an analysis of the roles traditional journalism and social media play in disseminating information, shaping campaign strategies, influencing public opinion, and, ultimately, defining the casting of votes on election day.
A series of "fireside chats" examines key elections issues: immigration, climate change, and international trade.
The conference is at the Donna E. Shalala Student Center, 1330 Miller Drive, Coral Gables, FL 33146, and is eligible for 11 CLE credits approved by The Florida Bar. The cost for registration is $150.00 for the general admission, $125.00 for Miami Law alumni, and $75.00 for public interest, government, and in-house employees. Early bird registration is available until January 31, 2020, at 10 p.m. The event is free and open to the public and current law students with registration.
For more information, contact Farah Barquero, fbarquero@law.miami.edu or 305-284-2464.