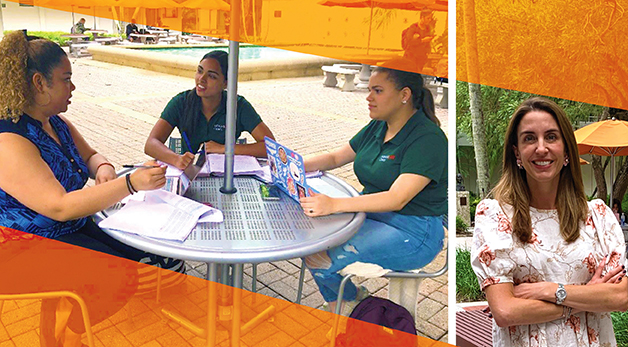 Clinic students with client; Maxine Latremoille
Seven years ago, Maxine Latremoille began as a social work intern in Miami Law's Children & Youth Law Clinic and never left. After graduating with her Masters in Social Work from Barry University, Latremoille continued part-time in the clinic, working alongside a new social work intern each year and working alongside law students to help them "bring a sense of context and humanity to the legal process, CYLC clients are more than just the sum of their case files; they are human beings," says Latremoille.
One of the fundamental tenets of the study of social work is the person-in-environment perspective. Central to this perspective is the holistic view that clients are a product of the many complex and interconnected systems in which they live and work.
For Margarita Aviles, this year's Barry social work intern, the clinic provides an opportunity to learn about the child welfare system, a new area from her usual focus on the elderly. "I think the law plays an important role for social workers as our career prepares us to be huge advocates for the world," says Aviles. "It is important for social workers to be aware of how policies affect our clients, as well as all the resources that are available in the community."
Preparing Law Students for the Human Aspect to Child Advocacy
Law students in the clinic are taught to research and prepare for client meetings and court hearings, and they often pore through mountains of case files before an initial client interaction. Students are well-equipped to tackle the legal advocacy, and sometimes less equipped for the human aspect of child advocacy. The social workers sometimes join law students at client meetings, helping the legal interns to feel more comfortable. As Aviles explains, social workers also "help law students to understand and present their client's current situation from a more trauma-informed perspective."
For example, an 18-year-old male client named "Jason" is currently in jail, awaiting trial for a felony. While the clinic is not involved in his criminal case, it was appointed to advocate for him in his dependency (foster care) case.
Based solely on a forensic analysis of Jason's case file, it is easy to picture a hardened criminal who has been tainted by a life in the child welfare system, but when Latremoille and the legal interns met with Jason in person, they saw something different: a young man who was born into poverty, abandoned by his parents, re-traumatized by experiences in foster care, and made some tragic choices that will have lifelong consequences.
Legal interns Melissa Portes Romero and Daisy Delgado Gomez represent the client who exemplifies the foster care-to-prison pipeline. "Social workers are crucial to the communication between the client and the legal advocate. Many times our clients are the victims of a failed foster care system; social workers help legal advocates understand and relate to the client, plus get needed services," says 2L Daisy Delgado Gomez.
How Social Work Helps Lawyers Prepare Case Narratives
"I see it as my role as a social worker to help the legal interns synthesize the full story of Jason into our case narrative," says Latremoille. Social workers bring social work knowledge and tools such as trauma-informed care, motivational interviewing, and strengths-based perspectives.
"From a trauma-informed perspective, social workers understand that our clients have had many rough experiences that contribute to where they are in life today," says Aviles. "Therefore, we must focus on his or her strengths and resiliency to assist them in obtaining the change in life that they are seeking to better themselves."
Social workers also contribute to more substantial systemic change. Aviles is helping Robert Latham, one of the faculty in the clinic, in analyzing how a child's monthly allowance is affected by his or her behavior in group homes, as well as the multiple placement changes a child goes through before he or she refuses placements.
"It is important for social workers to be more involved in advocacy at the local, state, and national level so that we can positively effect change for our clients and our communities," Aviles says.