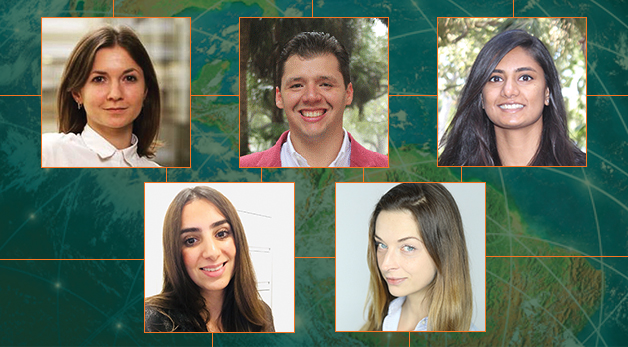 Olha Martynevych, Ivan Bracho, Arundathi Venkataraman, Sarah El Azouzi & Elina Jimenez
During the summer of 2019, International Arbitration LL.M. student and Young ICCA Scholarship holder Arundathi Venkataraman from India spent her time interning at the International Centre for Settlement of Investment Disputes (ICSID). When asked to describe her experience, Venkataraman said that it was "incredible, and a must-do for anyone trying to foray into investment arbitration! It puts what we learn theoretically in perspective, and highlights the non-classroom experience required to be successful in the field." For three months, Venkataraman assisted ICSID legal counsel with research on legal points for awards and in preparing working papers for potential awards. "It is also a place where one witnesses the possibly best ever advocacy, during hearings," Venkataraman went on to say. "There are only a handful of interns, so there's a lot of work to go around. It's a great ground to build a network since it presents a good opportunity to interact with counsels and arbitrators."
On her experience in the International Arbitration LL.M. program, Venkataraman said, "The LL.M. has been the best career decision I have taken! The diverse classroom, incredible faculty and the mentorship offered by the Program is something that drives me till this day. I have learnt as much about the law as much as I have about the soft skills necessary to succeed in the profession." Venkataraman who graduated with her International Arbitration LL.M. in July now works as a legal intern in Debevoise & Plimpton's international arbitration group in London.
Meanwhile, Ukrainian International Arbitration J.D./LL.M. Joint degree student Olha Martynevych spent the summer interning in the international arbitration department of Stephenson Harwood in London, U.K. In this position, Martynevych said: "I did everything starting from preparing and indexing the bundles and up to reviewing affidavits, drafting office memos and going to the hearings together with our team. I also spent a week working in Essex Court barristers' chambers to see how the other part of the legal profession works in U.K."
"I think that the J.D./LL.M. degree I am pursuing right now has made me an attractive candidate for Stephenson Harwood," Martynevych said, "because the firm is always looking for somebody with international experience and, increasingly, with ties to the Latin America market now. Also, the firm values the practical knowledge we get in the program and the ability to get into the case and pick up work at once, without long introductions and explanations."
Elina Jimenez, Russian native and International Arbitration J.D./LL.M. Joint degree student, obtained a coveted summer associate position at White & Case's Washington D.C. office. Elina described the summer program as both "rich and interactive" where "together with 20 other students from the best universities in the United States, we worked on challenging legal assignments and participated in various professional and social events. Theoretical knowledge and practical skills acquired at Miami Law helped me to perform at my best."
"I would like to express my sincere gratitude to my professors and mentors, Professors Carolyn Lamm, Rudolf Dolzer, Jonathan C. Hamilton, and Nassib Ziadé, who taught us the best in the practice of international arbitration," Elina went on to say. "My personal life hack to students who just sat down at a student desk - do not miss every opportunity to participate in the events held by Miami Law's International Arbitration LLM. Program. It will be your personal piggy bank of professional knowledge, positive emotions, practical experience, and fantastic communication opportunities! It will be difficult, but very interesting! Your path as a lawyer making your mark begins here!" Elina is graduating from the J.D./LL.M. in December and return to White & Case's D.C. office as an associate in March 2020.
"My decision to apply to the White & Case International Arbitration Program stemmed from my need to reaffirm my belief in the "freedom of possibilities." One of the possibilities this program offers is a practicum or externship program that ultimately led to my dream of learning and growing at a highly reputable Florida law firm," said Sarah El Azouzi, another International Arbitration J.D./LL.M. joint degree student from the United States and Morocco, who holds a law degree from Spain.
"After completing the practicum program, I was privileged to be provided with the opportunity to join the International Dispute Practice Group at Shutts & Bowen LLP. My experience at Shutts continues to teach me that if you enjoy your profession and work hard, there is no doubt that you will become a great lawyer. I have learned that every culture experiences law in its own way. By blending theoretical concepts with practice as a transnational lawyer, you develop new creative ways of breaking barriers of local law."
International Arbitration J.D./LL.M. student and Young ICCA Scholarship holder, Ivan Bracho from Venezuela, also landed a prestigious summer position at Hogan Lovells in Miami, after having completed a practicum placement with the firm earlier in his studies, an experience that Bracho described as "both challenging and fulfilling." In the second week, the firm asked Bracho to join the international arbitration team on an ICSID case in Washington, D.C. Before leaving for D.C., Ivan remembers: "I thought I had an idea of everything that went on throughout a hearing, but during that week I quickly realized that I had no idea at all of all the moving pieces that are involved in a hearing." Yet, Bracho says, "I was able to roll up my sleeves and keep up to speed by using the tools that I've acquired from several international arbitration courses at Miami Law." Bracho is graduating from the J.D./LL.M. in December and will be returning to Hogan's Miami office as an associate in spring 2020. The J.D./LL.M. joint degree program in international arbitration at Miami Law certainly has opened many doors for me, and for many of my colleagues," Bracho went on to say. "All that is required from you, is to take advantage of the [many] opportunities that the program provides for you on a daily basis!"
*******************************************************************************************************************
Miami Law students and graduates have been working around the globe with prestigious arbitration firms and institutions as well as international corporations in post-graduation, summer, and practicum positions. Moreover, foreign-trained graduates of the International Arbitration LL.M. Program may sit for the Bar Exam in several states without a J.D. degree, the most common being New York and California. Foreign-trained law graduates of the International Arbitration LL.M. Program also may qualify for an employment authorization for a one-year period of optional practical training (OPT) in the United States immediately following their graduation from the program. The OPT provides students with a valuable opportunity to gain practical experience in the United States prior to returning to their home countries (or to seeking permanent employment in the United States).