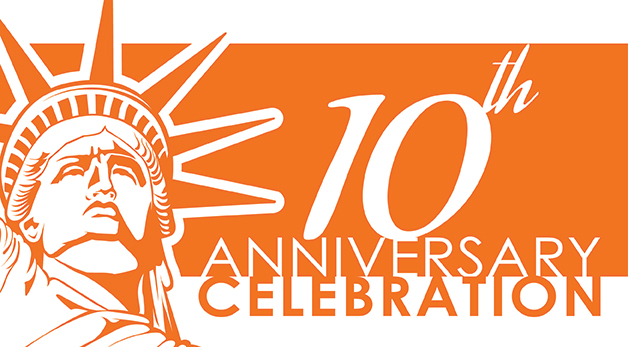 In the decade since the University of Miami School of Law Immigration Clinic opened its doors, the advocacy center has defended countless individuals against deportation, advocated for immigrant survivors of violence, and unaccompanied border children, and mounted complex litigation against anti-immigrant laws and policies. The clinic has developed expertise in defending people from the LGBTQ community fearing persecution in their home countries. In addition to helping individual clients, students collaborate with other immigrant rights groups on projects that reform the law and advance the cause of social justice for immigrants.
"The clinic is a labor of love," said Professor Rebecca Sharpless, the founding director of the clinic. "My colleague Romy Lerner and I work with students and clients on some of the most challenging immigration issues of our time. We regularly comment to each other that we have the best job in the world."
On April 17, 2020, the clinic will celebrate the decennary with a CLE event and celebration that features Dan Kesselbrenner, a leading national expert on the intersection of immigration and criminal law and former executive director of the National Immigration Project of the National Lawyers Guild.
The law school is soliciting gifts to honor the clinic on its tenth anniversary.
The clinic's recent work has included defending Somali men and women who were shackled and abused during a botched deportation flight, challenging the enforcement of federal immigration law by state and local officials through jail detainers and anti-sanctuary city policies, and advocating against post-earthquake deportations to Haiti through domestic and human rights advocacy and the fact-finding report "Aftershocks: The Human Impact of U.S. Post-Earthquake Deportations to Haiti." The docket and pedagogy of the clinic reflect and inform Sharpless' scholarly work in the areas of immigration law, progressive lawyering, and the intersection of immigration and criminal law.
The Florida Bar Foundation, American Immigration Lawyers Association, Catholic Legal Services, and WeCount! awarded and honor the clinic, often cited in extensive media coverage of its work.
"One of the most rewarding aspects of working in the clinic is knowing that we've given our students both the confidence and skills they need to be successful lawyers," said Romy Lerner, associate director of the clinic. "A significant measure of the clinic's success is the impressive number of alumni who have gone on to become immigration lawyers."
"UM's immigration clinic gave me invaluable hands-on experience," said Danielle Befeler, J.D. '18, one of two recent graduates of the clinic who now work at Americans for Immigrant Justice. "Learning about the practice of immigration law gave meaning to my law classes and taught me about human rights work within the United States. Because of the clinic, I accepted a job at an immigration law non-profit after graduating and now practice immigration law full-time, which is very fulfilling work!"
"I believe applying to the Immigration Clinic in my 1L year was the best decision I ever made in law school," said Elizabeth Montano, J.D. '19, who upon graduation last spring began working with Ira Kurzban, one of the nation's leading immigration lawyers and an adjunct professor at the law school. "The clinic creates such a supportive and collaborative environment that allows students to grow. I had no idea what I wanted to do when I started law school, but my experience in the Clinic sparked my desire to work as an immigration attorney after graduation and hopefully continue the same kind of lifechanging work that I was able to do in the Clinic."
"My experience in the clinic was invaluable. Seeing the hurdles that individuals have to face navigating the immigration system pushed me toward practicing immigration law," said David Calles Smith, J.D. '18, works for the same immigration firm. "Legal representation is a privilege that unfortunately most immigrants are not afforded by the immigration system. My time in the clinic helped me realize the need to fight against bigotry and xenophobia through legal representation."
Read more about the Immigration Clinic