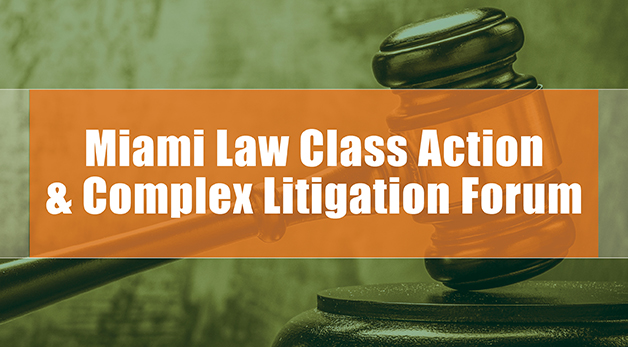 The University of Miami School of Law hosts the 4th Annual Miami Law Class Action & Complex Litigation Forum that offers a unique perspective for attorneys looking to understand the latest issues and topics associated with multi-district class actions and complex litigation.
Originally the brainchild of three leading Miami firms in trial, appellate, and class action law Kozyak Tropin & Throckmorton; Podhurst Orseck; and Harke Law LLP, the January 24, 2020 conference brings together leaders in the legal, political, and academic spheres to educate on how to better utilize and understand class actions.
This year's event comes at a time where the number of pending multidistrict litigations has grown more than ever before, according to Peter Prieto of Podhurst Orseck P.A.
As of the end of September 2018, multidistrict litigation accounted for more than half of the pending federal civil docket. In 2002, multidistrict litigation only accounted for 16 percent of the civil caseload, according to a report from the Lawyers for Civil Justice.
"Complex litigation, including mass torts and class actions, has mushroomed over the past decade. Multidistrict litigation, or MDLs, now make up roughly half of the cases in the federal courts," said Prieto, a moderator for the event and is serving as lead counsel in the Takata Airbag multidistrict litigation. "Miami Law has brought together a veritable dream team of judges, lawyers, and scholars around the country who are at the forefront of some of the cutting-edge issues that arise in complex litigation. If you're a lawyer practicing in this area, attending the forum is a must."
Leading judges will join practitioners and professors from around the United States, including a keynote conversation with Skadden partner John H. Beisner, who was recently named 2019 Product Liability MVP by Law360, and Vanderbilt Law School Professor Brian T. Fitzpatrick, author of "The Conservative Case for Class Actions."
Preeminent panelists will dive into current issues and topics including the new waves of mega liability litigation – like opioids and Monsanto, and other complex cases; the pros and cons of MDL from the plaintiff, defense, and judicial perspective; and ethics issues in large scale litigation. Participating judges from throughout the U.S. court system include Judge Eldon E. Fallon, Eastern District of Louisiana; Judge David Proctor, Northern District of Alabama; and Judge Amy J. St. Eve of the U.S. Court of Appeals, Seventh Circuit.
The conference will be held at the Newman Alumni Center, 6200 San Amaro Drive, Coral Gables, Fla. 33146, from 8:30 a.m. until 5:00 p.m. A reception will follow the conference.
The event is open to the public with registration. Costs: $495 ($395 for recent Miami Law alumni). CLE: 8.5 general FL CLE credits, including 2.0 in ethics, approved by The Florida Bar. Certification credits: 8.5 appellate practice and civil trial certification credits.
For more information, contact Sabrina Segura at ssegura@law.miami.edu.