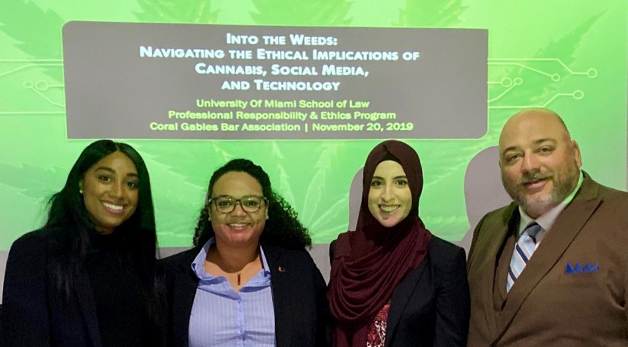 Ten Stallings, Katelin Stephens, Tesneem Shraiteh, and CBA President, Paul John Scanziani, Esq.
Miami Law's Professional Responsibility & Ethics Program returned to both the South Miami-Kendall Bar Association and the Coral Gables Bar Association for its annual CLE presentation.
PREP Director Jan Jacobowitz was joined by PREP interns Camila Rivero-Fernandez and Fahim Gulamali as they ventured to South Miami, to discuss cloud computing and emailing mishaps, and the ethical requirements for confidentiality, respect for third parties, and ensuring technological competence.
"Researching and presenting to attorneys was both personally and professionally rewarding, as we discussed the ethical implications of technology during natural disasters, such as hurricanes and the aftermath," said Rivero-Fernandez. "As a Puerto Rican law student whose island has suffered through devastating hurricanes and—most recently—earthquakes, this is a topic that hits close to home. With attorneys in the public and private sector, large firms, and solo practices, the conversation was lively and diverse."
"Our presentation was a wonderful opportunity to connect with practitioners and gain an understanding of what it is like to practice law within the bounds of ethics and professional responsibility. It is one thing to research topics for a presentation, and another to hear practitioners' perspectives on how best practices on paper, play out in the field," added Gulamali.
PREP Interns Tesneem Shraiteh and Katelin Stephens and PREP Fellow Ten Stallings traveled to CGBA to present "Into the Weeds: Navigating the Ethical Implications of Cannabis, Social Media, and Technology." The presentation facilitated and engaging discussion highlighting not only ethical pitfalls and challenges but also best practices as takeaways.
Shraiteh's hypotheticals focused on social media competence, the ethical implications of advising clients on their social media content, and attorneys' options for responding to negative online reviews.
"It was great to hear attorneys from the community speak about how the issues I had researched actually play out in practice," said Shraiteh. "It solidified the notion that social media and technology is truly impacting the law today. The discussion with the audience was lively and added insight into the role of social media in family law. The takeaway is to be aware of what clients are putting on social media throughout all stages of the case and to advise them about how the varying features on social media sites can impact confidentiality."
Shraiteh also discussed negative online reviews and provided best practices. The attorneys in the crowd echoed some of these guidelines. Some recommended ignoring the reviews, while others chose to respond with a generic, shell response that emphasized the lawyer's duty of confidentiality.
Stephens then discussed the myriad of ethical implications facing lawyers who wish to counsel clients in the budding cannabis industry. Cannabis law is rapidly evolving varies widely from state to state. Although cannabis has been decriminalized and legalized in over thirty states, it remains an illegal Schedule I drug under the Federal Controlled Substances Act. The split in state and federal treatment presents an abundance of ethical tightropes for lawyers to walk without running afoul of ethical obligations.
As a true testament to the timeliness of the topic, during the presentation, news broke that the House Judiciary Committee approved a bill that would remove marijuana from the classification of Schedule I drugs. This historic bill, if enacted, will have the effect of legalizing marijuana at the federal level. While the legislation is far from finalized, its progress even to this point is indicative of the momentum trending towards legalization nationwide.
Shraiteh and Stephens collaborated to conclude the presentation with an overview of artificial intelligence. Stephens discussed the legal implications of the growing prevalence of artificial intelligence in the practice of law.
"I was excited to be able to be able to present to practicing lawyers and judges on such rapidly evolving areas of the law," said Stephens. "The audience was so engaged that we adapted our presentation and let their dialogue and questions steer our discussion. It was kind of a surreal moment when I realized that, as a student, that I was fielding and answering questions from attorneys and judges that have been practicing for years."
PREP is an award-winning program that develops continuing legal education ethics training for the legal community. The program combines the attributes of an ethics institute and an ethics clinic, has dedicated hundreds of student hours to public service and has educated thousands of members of the Bench & Bar. During training, students are often able to make a positive impact on attendees by prompting them to consider and reconsider their approaches to some of the toughest ethical dilemmas that may arise in the practice of law.
In 2012, PREP was recognized by the ABA with its E. Smythe Gambrell Professionalism Award, the leading national award recognizing programs and projects contributing to the understanding and advancement of professionalism among lawyers and judges. In addition to presenting ethics training, throughout the semester PREP students publish blog posts regarding the nation's newest ethics opinions. The blog, Legal Ethics in Motion, can be found here.