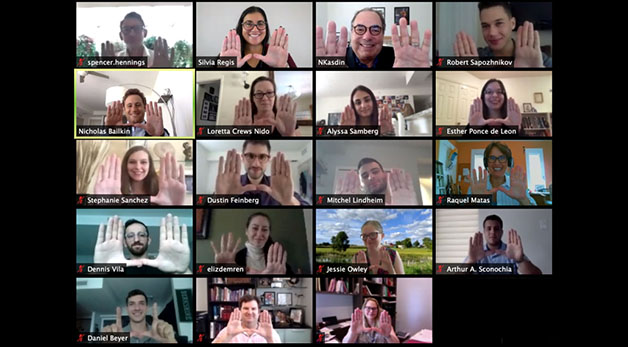 Miami Law's Real Property, Probate, Trust Law Society, in collaboration with the Real Property Development LL.M. Program hosted a virtual event with former Miami Beach Mayor and current Akerman's Miami office managing partner, Neisen Kasdin. A respected leader in urban development and a highly regarded land use and zoning lawyer, Mr. Kasdin has been involved in some of the most groundbreaking, transformative development and redevelopment projects in South Florida.
Nicholas Bailkin, a J.D./ RPD LL.M. student and President of the RPPTL Society organized the event to spark a conversation about current transformations in real estate development and how they will reshape communities in the years ahead.
Top among them are the effects of climate change. "There is a big intersection between real estate development and climate change", Kasdin said, discussing the effects climate change has on redevelopment- a need to reduce the carbon footprint as an example- and how it will result in major changes for cities nationwide---and especially in Miami.  "We need to replan our cities and that's going to be the meta discussion on resiliency and development over the next few years."
Kasdin also discussed how the geographic location of South Florida not only plays a large role in how climate change affects the area, but it also directly impacts how it must be redeveloped. "Particularly in South Florida, we have sea level rise and weather events [which] means that we have to build higher, build more compact, build denser, and build and develop away from the coasts and more broadly, reduce the carbon footprint." Kasdin also emphasized the need for policies that promote preservation of green spaces and wetlands, and policies that encourage non-automobile dependent development. "These are front and center at the intersection of public policy and real estate development."
Kasdin expressed concern, however, that sometimes important conversations about resiliency become diluted as they conflate other issues like social equity and related issues. Specifically, Kasdin touched on Magic City, a redevelopment project in Little Haiti---a once prosperous area filled with working-class Haitian immigrants, that began to experience exponential decline in the '60s.
Kasdin's client, the Magic City developers, bought the property with a plan to"transform it into an area for tech-oriented businesses…office development with residential, and some limited retail and revitalization of the commercial properties on northeast Second Avenue, which was the historic heart of little Haiti." From a resiliency and sea level rise perspective the area makes a lot of sense for redevelopment because it's "high" land and away from the coast, and near the old railroad tracts that are now making way for new, modern railway systems.
But with the redevelopment of historic areas like Little Haiti, comes the backlash associated with gentrification. The Magic City project has not been exempt from this backlash. Local community activists have been actively challenging the redevelopment of the area.
But Kasdin argues otherwise He says gentrification can be a very good thing for struggling areas. "Gentrification is good because it's dynamic. It means investment. It brings jobs. It brings activity…neighborhoods are not going to stay the way they've always been, [they're going to] change over time …all of that said, I think there is an opportunity to use that development to provide affordable housing, workforce housing…job training, and job opportunities."
The conversation ended with a discussion of public/private partnerships or "P3s" and how they have evolved over the years. P3s involve a collaboration between public and private sector entities, usually in the form of government concessions to a private sector entity to facilitate construction of projects that benefit the community. "In the olden days, P3's were done by the creation of tax increment funding (TIF)." TIF works by a municipality establishing a redevelopment district and using the incremental tax revenue from higher property taxes associated with the redevelopment, to help underwrite the development, particularly with respect to infrastructure components like sewer or fortified parking structures. Kasdin says that TIF mechanisms are not used as much anymore, largely as a result of the great recession of 2008-10, when governments were crushed financially. Governments are now more inclined to turn public assets to the private sector to develop or to provide services, rather than provide tax revenues. But, "the old P3 model would be good to have for dealing with resiliency issues…. We need to spend, in Dade County alone, billions and billions of dollars in redoing our infrastructure and to date no one has shown the willingness to ask developers to pay for that."
More on Miami Law's Real Estate Law Program
More on Miami Law's Environmental Law Program