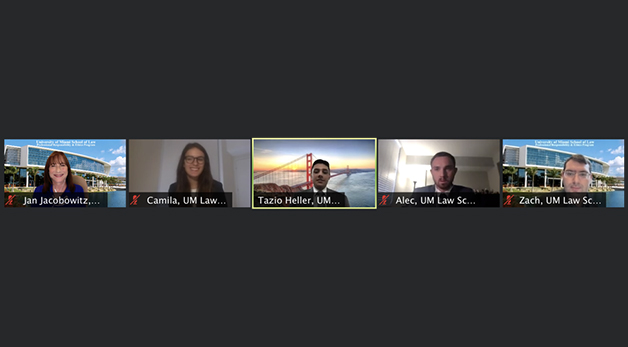 Miami Law's Professional Responsibility & Ethics Program hit the ground running this semester, presenting at bar associations across the state. PREP's fellows and interns presented at the Northern District of Florida Bankruptcy Bar Association's (BBA) annual seminar, the Cuban American Bar Association, and the Coral Gables Bar Associations.
At the BBA seminar, PREP Director Jan Jacobowitz was joined by PREP fellows Camila Rivero-Fernández, Katelin Stephens, Karina Oms, and Fahim Gulamali as they hosted a virtual Zoom meeting to discuss bankruptcy hot topics. The presentation, titled "Legal Ethics & Technology for the Bankruptcy Lawyer" highlighted pertinent bankruptcy ethical issues and covered topics such as best practices for working remotely, the ethical implications of using platforms such as Zoom, and lawyer well-being. Both students and fellows worked hard to deliver the high-quality and timely content for which PREP is renowned.
Oms, a 3L, said, " The PREP Fellows presentation at the BBA was a great interactive experience. It is always fun to teach practicing lawyers and judges about new technology and the risks associated with even having an "always on" device like an Amazon Alexa in their home."
"Presenting via Zoom was a greatly rewarding experience. Despite the pandemic and hurricane Sally's impact, we had a highly engaged audience. With significant participation from bankruptcy judges and attorneys from various jurisdictions, the PREP team was able to facilitate a rich and fruitful discussion," reflected 3L Camila Rivero-Fernandez.
As a testament to the impact of the program, 3L Fahim Gulamali said, "As an Intern, and now a Fellow, I am grateful for Professor Jacobowitz and PREP for giving students like me the opportunity to explore issues that we may not encounter in a traditional law school class. Further, I am thankful for the substantive networking opportunities--pivoting to an online platform has allowed us to build relationships with individuals all across Florida."
LLM student Katelin Stephens added,"Reflecting on my experience and growth through the program from intern to fellow, PREP has not only reinforced foundational legal skills like issue-spotting, researching, and developing well-written legal analyses, but it has also provided invaluable experience in developing public speaking, networking, collaborative, and leadership skills. Perhaps most importantly, PREP cultivates in its students the increasingly important ability to adapt quickly to rapidly evolving scenarios while maintaining utmost professionalism."
In their PREP debut, interns Nicole Vila and Julio Torres took the reins at the Coral Gables Bar Association. "Although I would have enjoyed presenting in-person, I am grateful for the technology we have today to be able to proceed with the presentation as planned safely from our homes. Also, fortunately for me, the Coral Gables Bar Association members were very engaged and participated from beginning to end, which helped the presentation run extra smoothly," said Vila.
Torres added that the opportunity to present was "nothing short of an exhilarating experience. For the past few weeks, I've researched interesting ethical issues surrounding practicing law remotely. To finally discuss my findings to a group of practicing attorneys and judges was worthwhile because remote practice has become the 'new normal,' and it is something that needed—and still needs—to be addressed to keep legal professionals informed!"
Continuing the PREP tradition of excellence, interns Brittany Milrot and Jose Rivero tackled ethical issues concerning technology and cannabis law to present at the Cuban-American Bar Association. "Our presentation was a wonderful opportunity to connect with practitioners and discuss the prevalent professional responsibility issues posed by the pandemic. Interestingly and as we presumed, several practitioners could relate to the guidance mentioned in our presentation regarding working from home nearby others, as many discussed having children participating in school from home while they are working from home. We were able to engage in a great discussion on the potential implications stemming from internet connectivity issues to our surroundings at home, including smart devices and other individuals nearby our workstations," said Milrot.
Reflecting on his experience, Rivero said: "Our presentation with the Cuban-American Bar Association provided us a wonderful opportunity to interact with Miami lawyers and listen to their biggest concerns during this pandemic. Presenting on Zoom posed new challenges to a normally in-person PREP presentation but, by making a plan B in case of connectivity issues, having multiple members control the presentation, and working as a team we rose to the challenge and delivered an informative presentation that tackled the newest issues faced by our legal community. The entire class is truly involved in the preparation of each presentation, and I think this is displayed by the knowledge of each student and the resulting high-quality work product."
PREP is an award-winning program that develops continuing legal education ethics training for the legal community. The program combines the attributes of an ethics institute and an ethics clinic, has dedicated hundreds of student hours to public service and has educated thousands of members of the Bench & Bar. During training, students are often able to make a positive impact on attendees by prompting them to consider and reconsider their approaches to some of the toughest ethical dilemmas that may arise in the practice of law.
In 2012, PREP was recognized by the ABA with its E. Smythe Gambrell Professionalism Award, the leading national award recognizing programs and projects contributing to the understanding and advancement of professionalism among lawyers and judges. In addition to presenting ethics training, throughout the semester PREP students publish blog posts regarding the nation's newest ethics opinions. The blog, Legal Ethics in Motion, can be found here.