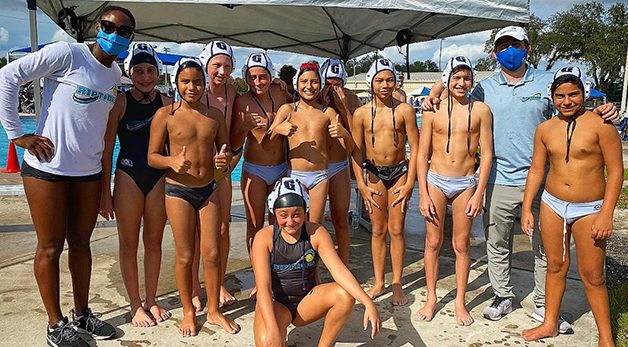 Chelsea Johnson, left, with young swimmers
When Chelsea Johnson comes across a lacking, the 24-year-old drives the correction. The Miami Public Interest Scholar comes by this genetically. For instance, when one of her brothers as a youngster fell in the pool at their home in Miami's Redlands farming area, their mother enrolled Chelsea, her sister, and three brothers in swimming in short order.
Swimming, in many ways, would ultimately lead to her chosen pursuit to focus on social justice and public interest. Swim coaches rewarded children who attended swimming four days a week with a Friday session of play. Play led to water polo (she and her siblings were almost a water polo team); water polo led to educational opportunities – first at Ransom Everglades School in Coconut Grove and then to Princeton University in New Jersey.
Water polo would magnify the differences in opportunity to Johnson, which opened the door to building and engaging in programs that would bring more Black girls and boys people who look like her to the sport. Then, a class at Princeton with a race, literature, African American culture scholar distilled decades into a clear path.
"Even though I well understood that there was no one in water polo that looked like me or my family, a class with Imani Perry was life-changing," Johnson says. "I had lived in a bubble, in many ways, and was not aware of the world of disenfranchisement or how race and economic factors are linked. The more I learned and researched things like post-prison inequities, the more I wanted to effect change. When I discussed them with my professor, Professor Perry responded: 'sounds like you want to go to law school.'"
Johnson graduated with a Bachelor of Arts in politics with a concentration in American politics, a certificate in African American studies, and papers on "How Police Brutality in the U.S. has Influenced the Ferguson Effect" and "Decoding the Right to Vote: The Role of Felon Disenfranchisement on African American Voting in the U.S."
A Watery Journey to Law School and a Focus on Social Justice
Water polo had much to offer the Johnson siblings, though only Chelsea and her sister, Ashleigh, rose to the uppermost ranks of All American and national teams in the sport. Both sisters turned down scholarships at high powered Division I West Coast schools in favor of Princeton, who, among the top teams, was the school that placed the most value on education before sport.
Similarly, Miami Law was the path to forge her goals.
"Of course, four years was a long time to be away from home, so that weighed on part of the choice," the second-year says. "But the Miami Scholars program is a custom fit for what I wanted in a law school."
At Miami Law, Johnson interns at the Miami Public Defender's Office drafting motions, attending depositions, and court calendars weekly under three assistant public defenders. She also interns at Miami Law's Children and Youth Law Clinic, where she negotiates with case managers and attorneys to advocate for clients and achieve client goals. She represented children and young adults who are/were in foster care in various legal issues related to immigration, injunctions, public benefits, refugee status, criminal expungements, and healthcare approvals.
"Chelsea is extraordinarily talented and committed clinic intern," says Associate Dean for Experiential Learning Kele Stewart, co-director of the clinic. "She goes above and beyond in her advocacy and enjoys it so much that she makes it seem effortless. For example, she drafted a petition in a case involving involuntary psychiatric examination under the Baker Act and the Judge said it was the best petition he had ever seen."
Despite class and workloads, Johnson still found time to build the Alliance for Diversity & Equity in Water Polo Nationwide where she is CEO & chair, as well continue the Johnson Swim School, a learn to swim non-profit program with the goal of teaching 300+ children ages 8-14 how to swim, that she co-founded in 2017.
Post-pandemic, Johnson will return to her water polo schedule, competing with a master water polo squad in tournaments worldwide and with the club team that she has played with since she was a child.
"Ultimately, I want to help people," says Johnson. "I know that's what everyone says but I really mean it. I want to be able to help those who cannot help themselves, who do not know where to turn to for help, and likely cannot afford adequate help.
"Miami Law has opened doors for me that I did not know existed; being able to work at the Public Defender's office, and with the Children and Youth Law Clinic have allowed me to have the experience of helping people in the communities that I want to impact. It has given me a tiny, but real, look into my future, and I like the direction its going," she says.
Read more about the Miami Scholars Public Interest Program
More on social justice and public interest at Miami Law