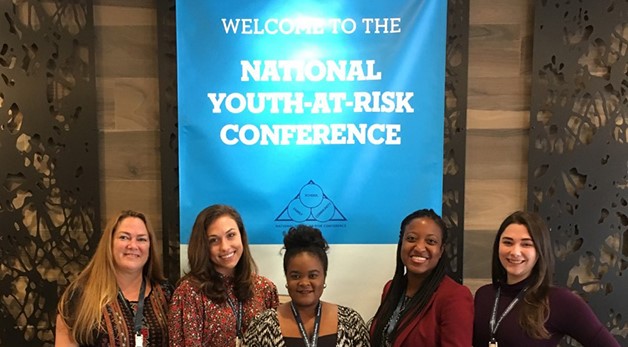 Pictured from left to right at the National Youth at Risk Conference in March 2020 are Wendy Cavendish, SEHD students Grace Migliozzi and Brittney Davis, Kele Stewart and Ph.D. candidate Deborah Perez.
Professor Kele Stewart has received a secondary appointment as Professor in the Department of Teaching and Learning at the University of Miami School of Education and Human Development. Stewart is also Associate Dean for Experiential Learning and Co-Director of the Children & Youth Law Clinic at Miami Law.
Stewart, whose research focus includes the intersection of child welfare and education policy, has long collaborated with faculty in SEHD on interdisciplinary research and community initiatives, and been a guest speaker in SEHD courses.
"In the School of Education and Human Development we are thrilled to add Professor Kele Stewart, a highly accomplished community-based law scholar, to the faculty of the Department of Teaching and Learning," said SEHD Dean Laura Kohn-Wood.
"Stewart's vision is as broad as education inclusion for marginalized youth that addresses legal, educational and state policies, yet her attention to detail is as meticulous as ensuring that foster youth have as outstanding an experience on our campus as any other young scholar."
When asked to reflect on the appointment, Stewart stated, "I am honored to receive this appointment. I believe interdisciplinary work is critical to tackle complex problems like educational equity, and I have found a second home in the School of Education."
Working with colleagues in SEHD, Professor Stewart spearheaded the successful collaboration that brought the First Star Academy to University of Miami. Launched in the summer of 2017, the UM Academy accepts rising 9th graders to participate in four years of Academy programming with a focus on academics, life-skills and caregiver support. The goal of the University of Miami Academy is to keep youth on track for high school graduation and prepare them for higher education and adulthood.
Stewart also partners with Wendy Cavendish, Chair of the Department of Teaching and Learning, on a rigorous multi-year evaluation and empirical research component of the First Star project. This research uses both quantitative and qualitative measures to look at the mechanisms and malleable program factors associated with academic and psychosocial outcomes achieved by participating youth.
"Professor Stewart's values and professional focus mirror the School of Education and Human Development – with a central focus on educational equity, interdisciplinary inquiry and community engaged partnerships," said Dean Kohn-Wood.
Anthony E. Varona, Miami Law Dean and M. Minnette Massey Professor of Law, echoes the sentiment. "As our outstanding associate dean for experiential learning, Dean Stewart is an innovator in clinical legal education, and a nationally prominent clinical scholar, educator, and practitioner. Her secondary appointment in the Department of Teaching and Learning at the School of Education and Human Development further reinforces my vision to leverage opportunities across the UM campus for interdisciplinary endeavors, thereby continuing to optimize our curricular offerings."
Stewart and Cavendish have also co-authored a book chapter titled "Towards More Effective Research, Policy and Practice in Child Welfare and Education" in a forthcoming book An Intersectionality Based Policy Analysis Framework in Equity Focused Education Policy. They co-presented their work with a team of students at the 2020 National Youth at Risk conference and have been invited back as feature presenters for 2021. Stewart has partnered on research grants with other faculty in SEHD.
Kohn-Wood views the appointment as a win-win for both schools. "I welcome our continued partnership and I am glad that her presence in our School is formalized through a secondary appointment."
More on the Children & Youth Law Clinic
More on studying family law