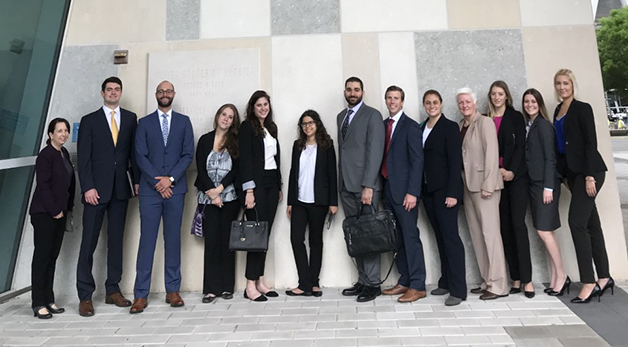 Summer Public Interest Fellows
"In a time of great uncertainty due to the ongoing pandemic, it was a relief to have the opportunity to engage in meaningful work through the HOPE Fellowship program last summer," says 2L Jenna Jurado. Initially unsure whether her internship with the National Association of Counsel for Children in Washington, D.C. would continue during the pandemic, by the end of the summer, Jurado had worked remotely to help compile critical COVID-19 information as it relates to children in the welfare system and those housed in institutional or congregate care facilities and juvenile detention centers.
"The research and resources amassed into a comprehensive toolkit that continues to enable judges, attorneys, and advocates to achieve better outcomes for children in the child welfare system," says Jurado.
Miami Law's HOPE Public Resource Center offers two summer fellowship programs: the Summer Public Interest Fellowship, open to rising 2Ls, and the HOPE Fellowship, which is open to both rising 2Ls and rising 3Ls. Though each fellowship has its own eligibility requirements, they have one thing in common – they provide stipends and opportunities that allow students with a genuine interest in public sector work to engage in the meaningful advocacy they believe in.
SPIF participants serve as interns in public interest and government agencies throughout South Florida and take part in a summer public interest seminar worth three credits. Students work full-time at their placements, attend class two evenings a week after work, and complete a legal research and writing project. Throughout the summer, students also have the opportunity to hear from Miami Law Alumni and other practitioners engaged in public service advocacy.
SPIF placements span a variety of areas of public interest law, including Legal Services of Greater Miami, Dade Legal Aid, the Miami-Dade Public Defender's Office, Catholic Charities Legal Services, The City of Miami Beach City Attorney's Office, and the U.S. Attorney's Office, to name a few.
During the summer of 2020, 2L Nicholas Ritornato was a fellow with Disability Independence Group, where he worked on issues involving discrimination against persons with disabilities and advocated for ways to increase access to services for DIG's clients. When asked about his experience, Ritornato says it comes down to something simple, "my internship during the SPIF program allowed me to accomplish what I wanted to in law school and my future legal career: help people."
The HOPE Fellows Program allows students to create their summer dream jobs. From places such as Washington, D.C., New York City, and San Francisco to Puerto Rico, Kuwait, and India, HOPE Fellows have been able to effectuate change across the country and the world. They engage in specialized on-site projects during the summer and, when they return to campus for the fall semester, HOPE Fellows organize projects to bring their pro bono ethic back to Miami Law.
Gita Howard, a 3L, knew she would need to think outside the box her first year in law school in order to pursue her goal of becoming an international human rights lawyer. "The HOPE Fellowship allowed me to be creative and intern in India with the Tibetan exile community," she says.
Getting her foot in the door at an agency abroad was an important step in Howard's path toward working with the international human rights community, a competitive field. She says she would not have been able to go abroad without the support of the HOPE Public Interest Resource Center. For her project, Howard organized a Gandhi legal theory workshop on campus. During her time abroad, she was inspired by the sense of optimism the Dali Llama-guided work instilled in the refugees she worked with.
Back in Miami, she used that inspiration to focus on the underlying moral and philosophical principles that guide legal work – a study students don't get in their typical law school classes. She paired the workshop with a community service component. Howard served as a HOPE Fellow during her 2L summer as well, working with the United Nations Office of Legal Affairs, based in New York City.
"The HOPE Fellowships allowed me to design my dream internships, and I'm grateful to HOPE for always being open and supportive of my ideas."
As the need for effective public service work has escalated due to the pandemic and quest for racial justice, the HOPE and SPIF Fellowships help connect Miami Law students who are determined to make a difference with agencies that are able to provide the important work that needs to be done.
For more information and to access the 2021 fellowship applications, visit www.law.miami.edu/academics/hope. The deadline to apply is February 15, 2021.