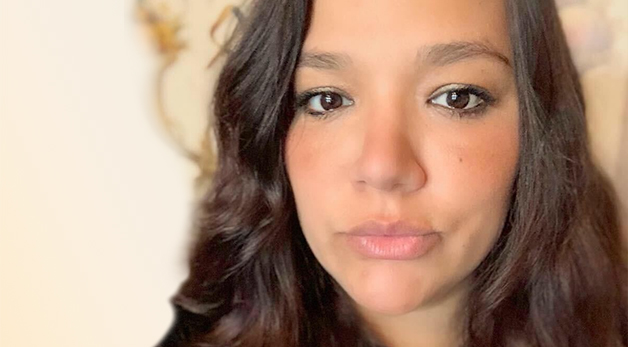 Caroline LaPorte, J.D. '14
Caroline LaPorte, J.D. '14, a Florida-born descendant of the Little River Band of Ottawa Indians, works at her dream job with the Seminole Tribe of Florida. There, she serves as an attorney and judicial advisor in the Seminole Tribal Court, where she advises the judges, who are all members of the Seminole Tribe, on civil procedure and evidence, and other substantive legal issues.
"It's interesting to me that I have this opportunity because I have a distinct memory of when I was clerking at the Department of Justice Office of Tribal Justice in D.C. that a dream job of mine would be to work for the Seminoles," says LaPorte. "Now that I'm here, working on tribal issues, and involved in the practice of a Tribal Nation exercising its sovereignty, I feel really lucky."
LaPorte, who received her degree in Philosophy from Baylor University, worked as a Miami Teaching Fellow in Liberty City and Little Haiti before attending law school. LaPorte decided to go to law school when she began to see how the law affected people on a very personal level.
"Seeing how the law could either build up or tear down our communities prompted me to think of my own community and how I could strive to be a part of the movements that are positively affecting Indian Country. Law school was the natural choice," said LaPorte.
Committed to public interest and social justice, LaPorte interned at the Department of Justice in Washington, D.C., in the Office of Tribal Justice during her 1L summer. It was during this internship that LaPorte realized she wanted to practice Federal Indian Law. She was also elected to the Executive Board of Directors for the National Native American Law Students Association while a 3L at Miami Law.
For LaPorte, it can be difficult for an Indigenous person to work on Indian country issues.
"One of my favorite things to do is listen to the Seminole Judges talk about custom and tradition," says LaPorte. "The lessons I have learned from all of them are teachings that I take to heart, sometimes in conflict with my formal legal education. The western legal framework is traditionally foreign to Tribes, and that friction still exists in Tribal Courts. We spend a lot of time trying to find that balance...trying to answer the question of how to use the western legal system to supplement, but not supplant, Tribal traditional justice systems."
Before her role with the Seminole Tribe, LaPorte worked as the Senior Native Affairs Policy Advisor for the National Indigenous Women's Resource Center in Washington, D.C., where she worked on the legislative issues and helped to start the StrongHearts Native Helpline. She also helped draft individual sections of Savanna's Act (addressing Missing and Murdered Indigenous women and girls) and the Not Invisible Act and had the opportunity to work with national coalitions like the National Task Force to End Sexual and Domestic Violence.
"During my time in D.C., I learned a lot about resiliency," says LaPorte. "I also learned that the federal system is never going to address Indigenous issues in a meaningful way. Indigenous people in the United States were colonized, and the federal government is a manifestation of that colonization. Honestly, my time in D.C. really taught me something about where to put energy and where not to. So, I'm grateful for that time and for the clarity it offered me."
While LaPorte was a student at Miami Law, she worked at the Human Rights Clinic and Children & Youth Law Clinic.
"I received exceptional mentorship from Caroline Bettinger-Lopez, and I still do," says LaPorte. "She taught me so much about gender-based violence issues and about how to address them from a human rights framework, which very much mirrors an Indigenous framework (or at least compliments it)."
Aside from her experiences with the clinics, LaPorte enjoyed Professor Ricardo Bascuas' Evidence class and the Mindfulness in Law Program.
LaPorte remains grateful for the support she received as a law student at Miami Law, especially during her pregnancy with her son, Sutton Francis.
"I had a community of support around me, starting with the Children & Youth Law Clinic," she says. "The support I received from Robert Latham, Bernard Perlmutter, Kele Stewart and Angela Galiano and Mary Cruz were beyond anything I could have possibly imagined. They were essentially family to me and to this day, I still think of them like that. I truly don't know what I would have done without them. The same is true for Professor Zanita Fenton and for Scott Rogers. I just had these exceptional professors who also happened to be exceptional humans."
LaPorte is looking forward to teaching a class at the University of Miami in Spring 2021 – Introduction to Native & Indigenous Peoples and Perspectives – as part of the newly established academic program, Native American and Global Indigenous Studies.
In reflecting on her work with the Seminole Tribe, LaPorte is acutely aware of the struggle the Indian Tribes face in this country.
"It's hard not to feel everything we do as being intensely personal," she says. "Tribal sovereignty is constantly under attack, Indigenous ways of being and knowing are perpetually invalidated, and our people have suffered an immense loss due to colonization and genocide. So, the work that we do, wherever you are in Indian country, is addressing that harm. And it's a harm that is very much a part of our everyday experiences."
Read more about Miami Law's clinics
Read more on the Public Interest and Social Justice Program at Miami Law