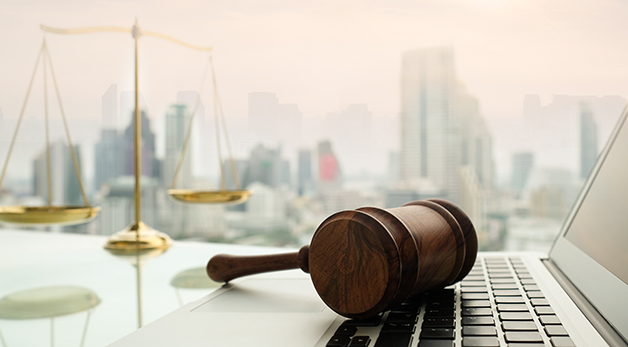 For the first time in its 75-year history, the University of Miami Law Review will consider submissions from any member of the Miami Law student body.
As the first step in facilitating the discourse required to bring racial discussions to the forefront within and outside of our Miami Law community, the University of Miami Black Law Students Association and the University of Miami Law Review will be collaborating on a special issue of the University of Miami Law Review Caveat, the law review's digital publication, that will be published in 2021.
"The law review felt that this was a discussion the whole student population should be actively engaged in, as issues of systemic racial injustice affect all of us," said digital editor David Stuzin. "As we start our legal careers, we have an ethical duty to be wrestling with these urgent questions of justice and equality before the law."
The issue will focus solely on systemic injustice and discrimination in the law. As both organizations know that all members of the Miami Law community should partake in this discussion, all Miami Law students, faculty members, and administrators may therefore submit manuscripts for consideration for publication in the Caveat special issue.
In the announcement of the issue, the Robert H Waters Chapter, Black Law Students Association (BLSA) wrote, "In the aftermath of George Floyd's death, our nation has reckoned with protests, demonstrations, and civic unrest. We have witnessed a model for change on the local level in Minneapolis, Minnesota. Reformers have called for state and federal legislators to pass a police reform bill that adequately addresses the issue of police brutality.
"However, we cannot address the issues plaguing our nation without first recognizing their underlying causes. To do so effectively, we must admit that our nation still fails to ensure that all citizens are treated equally in workplaces, housing markets, hospitals, and police interactions. We cannot say our legal system provides justice to every person equally because justice cannot exist in a country where race determines how people are treated."
"Given that our nation was built on racial oppression, it is no coincidence that Black people face systemic injustice in America over 400 years later," said Ronnie Graham, president of BLSA. "This caveat is a small step towards the inclusion of Black voices on the racial issues that directly impact us. While we appreciate this caveat, we also look forward to the UMLR working to fix the history of having little to no Black representation in the membership and leadership of the law review."
More on the University of Miami Law Review
More on the Black Law Students Organization