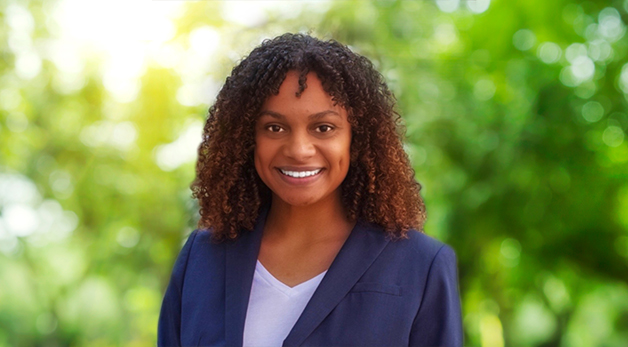 Jordan Rhodes, 3L
Entering third-year student Jordan Rhodes spent the summer working remotely for the Los Angeles law firm of Pillsbury Winthrop, while also taking a class and serving as a research assistant.
"I am originally from South Florida, but I am ready to move somewhere new! I plan to take the California bar and move to the West Coast, and work at a firm in Los Angeles, and with non-profit organizations or community advocacy groups."
Although she is working remotely for a firm this summer, Rhodes feels she has had an incredible experience, and has learned much in a short amount of time. "I have had the opportunity to work in various practice areas such as litigation, intellectual property, insurance, and employment," said Rhodes. "The diversity in the work I have done has helped me find out which area of law most interests me. Although I was nervous about working remotely for the summer, the experience has been amazing and nearly as fulfilling as working in-person!"
In addition to working for Pillsbury Winthrop, Rhodes spent the summer as a research assistant for Professor Andrew Elmore. 
"I researched state and federal employment regulations that were drafted in response to the pandemic and wrote memos on how these new regulations provide the opportunity to advocate for greater protections for low-paid domestic and agricultural workers," explained Rhodes.
Rhodes also took the class COVID-19: Lawyering in a Pandemic, which was taught by different faculty members. Every session focused on the various social impacts of COVID-19 from a legal perspective.
"We explored topics like crisis leadership in law, elections during a pandemic, trends in education, bankruptcy, force majeure, and many other exciting areas," she said. "These opportunities offered at Miami Law allowed me to continue my legal education and become knowledgeable in developing areas of the law."
As Rhodes enters her third and final year at Miami Law, she will serve as the president of the Student Bar Association, as well as the student trustee for the University of Miami Board of Trustees. 
"One of my greatest passions is being an advocate for others—it's one of the main reasons that I enrolled in law school," said Rhodes. "As the Student Trustee for the Board of Trustees, I am most looking forward to meeting with students from different backgrounds and schools and advocating for their interests. As a Student Trustee, I represent all of the students at the University of Miami as opposed to just law students. This provides me with the opportunity to meet with students that I may not otherwise get the chance to meet and learn from their unique experiences at UM. I know that the year ahead will pose many challenges and hurdles. However, I see this experience as an opportunity to grow as an individual and ensure that students have a voice in the administrative process."
Rhodes is also a member of the Society of Bar & Gavel, a community service and honor society, and maintains leadership positions in both the Black Law Student Association  and OUTLaw. Last year, she interned with the Children & Youth Law Clinic. 
Rhodes, who graduated from the University of Florida with a B.A. in Political Science, African American Studies and a minor in Mass Communications, is looking forward to moving out west after graduation.