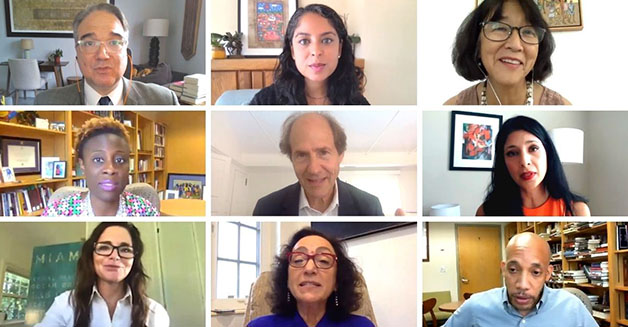 The University of Miami School of Law, in partnership with the AALS Journal of Legal Education, hosted a spirited virtual symposium, "Power, Privilege, and Transformation: Lessons from the Pandemic for Online Legal Education," discussing how COVID-19 has transformed legal education in the United States.
Changes in legal education brought on by the pandemic raise "important questions about whether online legal ed, in whole or in part, will become the new normal, or as some of my colleagues have said, 'the new abnormal,'" Miami Law Dean and M. Minnette Massey Professor of Law Anthony E. Varona said in his opening remarks. "The pandemic also brought to light cracks in our social fabric, challenges that ripple across many aspects of our society, including civil and human rights, public health, financial stability, poverty, privacy, criminal justice, and immigration among many, many other topics."
In his keynote address, Cass Sunstein, the Robert Walmsley University Professor at Harvard University and founder and director of the Program on Behavioral Economics and Public Policy at Harvard Law School, called on the poet Virginia Woolf as his spirit guide to drive his address and, in particular, her poem "A Room of One's Own." Using the quote, "I would venture to guess that Anon, who wrote so many poems without signing them, was often a woman," he knitted out an eight-part argument focusing on areas of potentially skewing effects in education – both in traditional and distance learning models.
Weaving personal anecdotes with social science studies and research, Sunstein examined the phenomena of self-silencing, group polarization, informational cascade, and hidden profiles.
"Recording or no recording, screenshots or no screenshots, being in a room of one's own can liberate people to speak their mind," said Sunstein, in conclusion. "Whether students feel liberated in that way depends, in part at least, on the cultural learning that the professors try to inculcate and whether they work to weaken the norms that produce pernicious forms of self-silencing.
"A student might take very clear – very gentle, but clear – steps to display a new openness to diverse points of view on abortion, on gun rights, on reparations, on tort law, on contract; views that are not widely shared. Under current circumstances, that's a unique opportunity, and also a responsibility" of both faculty and students, Sunstein said.
Almost 1,000 academics, practitioners, students, alumni, and members of the public joined panels of 26 nationally recognized experts exploring the unprecedented transformation in institutional higher education.
Professor Jeremy R. Paul, Northeastern University School of Law and co-editor of the AALS Journal of Legal Education, said, "While magazine rankings play much too large a role in how we manage law schools, it remains to be seen and discussed whether our forced deep dive into online education can shake loose any of the restraints that have thus far inhibited progress."
"Power, Race, Gender, Class, Disability and Family Status" addressed how the shift to online legal education changes power relationships, including vis-a-vis faculty/students, students/students, and how it affects and is affected by race, gender, class, family status, and disability, among other factors. Empirical data of the disparate impact of the pandemic on women in education were shared by Professor Meera Deo of Thomas Jefferson School of Law and director of law school survey student engagement, and affirmed by Georgetown's Professor Sheila Foster, The Scott K. Ginsburg Professor of Urban Law and Policy and
professor of public policy, who talked of the impact on their careers of the caretaking roles expected of women academics. Miami Law's Professors Osamudia James and Mary Anne Franks examined changes in access and exchange in remote education, with James addressing how the collapsing of boundaries online can shift balances of power, and Franks discussing how the shift to online education has opened the door to norms that can be corrosive to productive intellectual discourse.
The panel, "Transformation?" dug into whether, in what ways, and to what degrees the turn to and normalization of online education is likely to be a transformative moment for higher education generally and law schools specifically. Building on University of Houston Law Center Dean Len Baynes's presentation, Miami Law Professor A. Michael Froomkin predicted seismic realignments in legal education triggered by the shift to online teaching caused by the pandemic. He anticipates that elite universities would provide 'courseware' that would erode the role of faculty in many other law schools.
As a concrete example of online legal education programming geared to admitted law students, Harvard Law Professor I. Glenn Cohen described Zero-L, the pre-law school online module designed to ease 1L entry into legal studies that Harvard is offering to other law schools. Miami Law's Charlton Copeland described the school's Summer Legal Academy, an innovative pipeline program for high school and college students inaugurated this summer. With 5,000 applicants for 140-offered slots, Copeland suggested that the Academy could serve as a model of how the turn online can expand access to legal education for previously underserved communities. Kathleen Sullivan, whose career spans stints as a law professor at Harvard, dean of Stanford Law School to being the first woman named partner in a major Wall Street law firm, and who represents universities named in class actions by students over online legal education, closed the panel with an analysis of how academic freedom should be the core principle that should drive law school – and judicial – responses to the pandemic.
In "Regulatory Views," top leaders of key organizations covering the life cycle of legal education — from admission to law school to legal education to admission to the bar — addressed the range of issues raised by the pandemic for law schools and law students. Shifting from remarks on the pandemic's effects on the LSAT and law school admission process, to a discussion of the ABA's requirements for distance learning in law schools, to the role of the AALS in representing the interests of its member law schools, to an overview of the variety of approaches used by states in the administration of the bar exam, this panel provided an unparalleled opportunity for the top legal education regulators in the country to address student and law school administration concerns.
The final panel of the conference, moderated by University of Miami Professor of Law Michele DeStefano, "The Classroom," delved into day-to-day challenges of delivering effective legal education online amid the complex environment explored in the other panels. Cornell Law dean Eduardo M. Peñalver emphasized raising the bar on what we consider high quality online legal education once we are post-crisis. Nina A. Kohn, the David M. Levy Professor of Law and faculty director of online education at Syracuse University College of Law, urged faculty to believe that legal education is not a unicorn i.e., it absolutely can be taught effectively online albeit differently than in the traditional in-person classroom.
University of San Francisco School of Law Professor Rhonda Magee discussed the increased importance of mindfulness given the additional stress that online education (especially in a pandemic) can have on students and professor alike. Dovetailing Magee, Yvonne M. Dutton, professor of Law, dean's fellow and Grimes fellow at Indiana University Robert H. McKinney School of Law, highlighted the advantages that online education brings in terms of the ability to provide more feedback to students as they learn. Warning all participants against "perfectionism," Professor Michele Pistone, director of Clinic for Asylum, Refugee and Emigrant Services at Villanova University Charles Widger School of Law, provided her top tips for creating engaging online content and managing students' expectation.
The panel closed with an uplifting call to action by Professor Mary A. Lynch, the Kate Stoneman Chair in Law and Democracy, director of the Center for Excellence in Law Teaching and director of the Domestic Violence Prosecution Hybrid Clinic at Albany Law School, espousing how bright the future of "The Classroom" will be post-crisis when we enter a blended universe of in-person and virtual interaction.
"I have learned a tremendous amount today about the threats and opportunities of the turn to online legal education," said Miami Law Professor Lili Levi, vice dean for intellectual life and Dean's Distinguished Scholar, who organized the event. "The panelists taught us about the need to engage in the intentional excavation of the many layers of vulnerability that are revealed by operating in a pandemic.
"I have also learned one underlying recommendation out of many — to think hard about what we would like our post-pandemic pedagogical goals to be, and to identify how those goals should influence both what we think of as best practices in online teaching in the classroom, and the bigger institutional questions our panelists have surfaced," Levi said.
SEE VIDEOS:
·         Opening Remarks and Keynote - https://youtu.be/ODMEukJ5GwY
·         Panel 1 - https://youtu.be/ax55kV2G6-w
·         Pane 2 - https://youtu.be/NCRKd3ZWif8
·         Panel 3 - https://youtu.be/5pujygn3o4g
·         Panel 4 - https://youtu.be/zqtai5Lkgjk