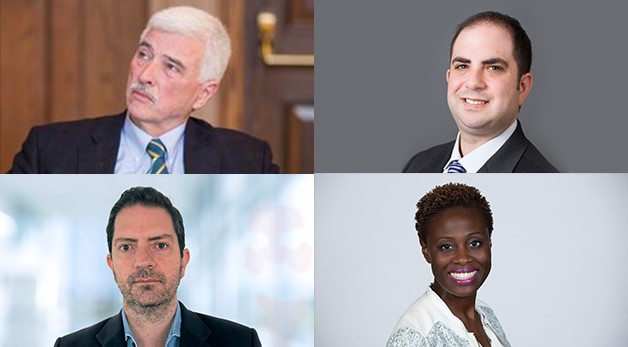 Professors Osamudia James, Jarrod Reich, Pablo Rueda-Saiz, William Bratton
As the fall semester at Miami Law commences, Dean and M. Minnette Massey Professor of Law Anthony E. Varona announces new hires joining the faculty and the creation and appointment of an associate dean for diversity, equity, and community.
Professor William Bratton, the incoming de la Cruz-Mentschikoff Endowed Chair in Law and Economics, begins teaching in the spring. Professors Pablo Rueda-Saiz and Jarrod Reich joined Miami Law on July 1, 2020. Professor Osamudia James, who previously served as vice dean for three years, assumed her new position as associate dean for diversity, equity, and community on August 1, 2020 and was also named associate provost for diversity, equity, and inclusion within the University of Miami Office of Faculty Affairs.
"I am thrilled that Professors Bratton, Reich, and Rueda-Saiz have joined our community," said Varona. "They each bring extraordinary talents and track records to Miami Law, are dedicated to the success of their students, and will enrich our law school's intellectual life. I am equally delighted that Professor James accepted my request to become our inaugural associate dean for Diversity, Equity, and Community. She is celebrated nationally for her pathbreaking work in these areas, and is the ideal colleague to assume this new and important associate deanship."
In her new role, James will build on Miami Law's existing commitment to diversity and inclusion, working to coordinate and strengthen that commitment through teaching, student services, and intellectual life. James also will work to deepen Miami Law's community engagement regarding diversity and equity, including work to build pipelines to law school and the academy.
"I'm delighted to step into this new role, which more formally connects my teaching and scholarly commitments to the law school's commitments to Miami and the legal profession," James said.
William Bratton
Bratton comes to Miami Law from the University of Pennsylvania Carey Law School, where he is the Nicholas F. Gallicchio Professor of Law Emeritus and the former co-director of the Institute for Law & Economics. He is recognized internationally as a leading writer on business law, and he brings an interdisciplinary perspective to a wide range of subject matters that encompass corporate governance, corporate finance, accounting, corporate legal history, and comparative corporate law.
"I am really looking forward to continuing my endeavor as a teacher and scholar on the Miami Law faculty," Bratton said. "I have long admired the colleagues at Miami for their depth, productivity, and intellectual sophistication. I can't wait to bring my courses on corporate finance and merger and acquisitions to Miami Law students."
Bratton previously served on the faculties of the Cardozo, Rutgers, George Washington, and Georgetown law schools. He also has been the Anton Philips Professor at the faculty of law of the University of Tilburg, the Unilever Visiting Professor at the faculty of law of the University of Leiden, and the Simizu Visiting Professor at the faculty of law of the London School of Economics. He is a research associate of the European Corporate Governance Institute.
"Bill Bratton's incorporation to the faculty enhances the reputation of the Law School of the University of Miami," said Carlos M. de la Cruz, Sr., J.D. '79, former chair of UM's Board of Trustees. "And his prior experience as co-chair of the University of Pennsylvania's law and economic center brings the experience and expertise that I am hoping the de la Cruz/Mentschikoff Chair in Law and Economics would provide to our students and local legal community."
Pablo Rueda-Saiz
Joining Miami Law as an associate professor of law, Rueda-Saiz's interests and scholarship include international and comparative constitutional law, human rights, law and society, law and social movements, and law and globalization. Before joining the law school, Rueda-Saiz worked as a deputy justice at the Colombian Constitutional Court.
"I am very excited about teaching law at the University of Miami," said Rueda-Saiz. "Miami is a unique setting for someone engaged in research involving the Americas and the world at large. Moreover, the law school has historically been a vibrant scholarly community committed to the investigation of how law works in society and actively engaged with using law as a tool for social change. Thus, the law school and its unique setting constitute a fantastic place for someone who is interested in investigating the interplay between law, globalization, and social change."
Rueda-Saiz is the former legal advisor to the Colombian presidency evaluating the constitutionality of the policies adopted by the government under the peace agreement with the FARC guerrillas. He has also worked with various Latin American governments and organizations in designing and implementing mechanisms for prior and informed consultations between indigenous peoples and extractive industries.
Rueda-Saiz has taught law at the University of Wisconsin, the Justus-Liebig University in Giessen, Germany, and the Universities of El Rosario and Los Andes in Colombia and received awards and honorific mentions from the Latin American Studies Association, and the Law and Society Association.
Jarrod Reich
Reich joins Miami Law from Georgetown University Law Center, where he taught legal practice and a law fellow seminar, and served as a coach to the mock trial team and a facilitator for Georgetown's Lawyers in Balance program. He is teaching Legal Communication & Research Skills this year.
"Joining the Miami Law faculty feels like coming home, in a way," Reich said. "Growing up, I spent most of my summers in South Florida (and became a lifelong Canes fan as a result), and my sister earned her law degree here. I am beyond thrilled to be a member of such an innovative and dynamic faculty—one that not only is committed to producing cutting-edge scholarship and developing innovative teaching methods but, more importantly, is dedicated both to promoting social justice and to ensuring its students develop into the best lawyers and people they can be. I am very proud to be on a faculty that teaches its students and serves its community with such care, compassion, and empathy."
Previously, Reich taught legal writing, appellate advocacy, alternative dispute resolution, and seminars for judicial and in-house extern at Florida State University College of Law and as an adjunct at the Benjamin N. Cardozo School of Law. At Florida State, he won the Open Door Teaching Award for his mentorship and advising work. He spent eight years as a litigator at the firm Boies Schiller Flexner LLP, focusing his practice on complex litigation — most notably, on the team representing the plaintiffs in Hollingsworth v. Perry, the historic case for marriage equality.
Reich's scholarship and service focus on lawyer and law student well-being; he serves as the chair of the AALS Section on Balance in Legal Education, his scholarship has appeared in the Villanova Law Review, and the Harvard Law School's Center on the Legal Profession's journal, "The Practice," and he has presented on the topic throughout the country. In addition to this scholarship, he is the co-author of the forthcoming fourth edition of "Thinking Like a Writer," the premier legal writing book for practitioners. He has provided workshops on effective legal writing to practitioners both nationally and internationally.