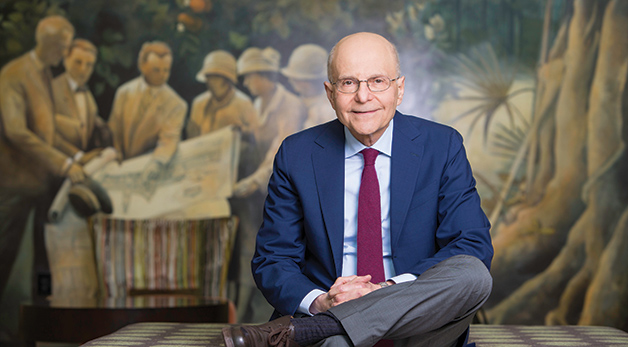 Professor Irwin Stotzky (Photo by Joshua Prezant)
Professor Irwin P. Stotzky vividly recalls stepping down from a U.S. plane alongside Haitian President Jean-Bertrand Aristide in October 1994 at the Port-au-Prince airport. "There were 20,000 U.S. troops ringing the airport, protecting the president, while the crowds cheered his return," said Stotzky, a long-time advocate for the Haitian people.
That was three years after Aristide became the first democratically elected president in Haiti's history, only to be overthrown in a military coup shortly after taking office. During Aristide's exile in the United States, Stotzky arranged speaking engagements on his behalf and later helped win President Clinton's support for returning Aristide to office.
Following Aristide's dramatic return, Stotzky led an investigation into the military regime's killing of 5,000 Haitians and other human rights abuses from 1991 to 1994. During that assignment, Stotzky went inside Haiti's prisons, taking the testimony of inmates. On one visit to the Haitian National Penitentiary, he and journalist Jean Jean-Pierre found themselves in the crossfire of a shootout between United Nations special forces and the Haitian prisoners, who were attempting a breakout. "I dived under a truck to escape," he recalled. Stotzky's persistence paid off, and the investigation resulted in the first convictions on human rights charges in the nation's history.
A member of the Miami Law faculty since 1974, Stotzky teaches Constitutional Law and Theory, Criminal Procedure, and Philosophy. He has published numerous articles on democracy and human rights, criminal law and procedure through the years. He has published the following books: The Theory and Craft of American Law: Elements (1981), Transition to Democracy in Latin America: The Role of the Judiciary (1993), Silencing the Guns in Haiti: The Promise of Deliberative Democracy (1998), Law As Justice: The Moral Imperative of Owen Fiss's Scholarship (2009), and Send Them Back (2019). Another book, Jean v. Nelson: A Model for Civil Rights Litigation in Immigration, is scheduled to be published in early 2021. He is a member of the editorial board and special editor for "Deliberate Commentary: The Nexus of Democratic Theory and Law" for the journal Democratic Theory.
A FOCUS ON HUMAN RIGHTS  
Stotzky has acted as a fierce advocate for human rights in Haiti, Argentina, and the United States. For more than 45 years, he has represented Haitians and other refugees on constitutional and human rights issues in many cases. He served as an advisor to Haitian President Renè Preval's administration, and as the chairman of an international presidential commission to help Haiti confront its drug problems. He was also a founding member of the Institute for Justice and Democracy in Haiti, a human rights institute that researches and distributes information on human rights conditions in Haiti.
In the 1990s, Stotzky spent almost three years in Argentina as a Fulbright Scholar. In that role, he served as an advisor to Argentina's President Rául Alfonsin, recommending what steps to take, including human rights trials, against those who committed massive human rights abuses during the so-called "Dirty War." That led to him editing the book, Transition to Democracy in Latin America: The Role of the Judiciary.
Stotzky returned to Haiti after the devastating 2010 earthquake resulted in hundreds of thousands of deaths, injuries, and displaced families. One of the unfortunate side effects of the UN relief effort was a deadly cholera epidemic that has killed more than 12,000 people and infected almost 1 million Haitians.
"The epidemic occurred when relief workers from Nepal put their infected rubbish in a major river. Even though cholera is present throughout Nepal, these soldiers had never been tested or given antibiotics before arrival—a clear case of negligence," said Stotzky, who filed suit in 2014 against the United Nations. While the suit was dismissed in 2017, the UN later promised to provide $400 million to Haiti to improve the water system and compensate families for their losses.
A CAREER IN THE PUBLIC INTEREST 
Stotzky grew up in Detroit in a racially mixed neighborhood. He enjoyed playing basketball and his high school friends included artist McArthur Binion and the late comedian Gilda Radner. "I was always interested in progressive legal work, rather than joining a private law firm," he said. At the University of Chicago, he studied political theory in graduate school while pursuing his J.D.
As a third-year law student, Stotzky met Soia Mentschikoff, who was then a professorial lecturer at the University of Chicago Law School. She had been the first female professor at Harvard Law and the first woman considered for appointment to the Supreme Court. "When she decided to take the position as Dean of Miami Law, she invited me to teach the course on Elements," he said. "So, I made the move to a warmer climate, and have basically been here ever since then."
Stotzky's interest in legal theory began early and led to the publication of his first casebook co-authored with then-Dean Mentschikoff, The Theory and Craft of American Law: Elements. The book focuses on the craft of law, on how to read, analyze, and make sense of case and statutory law and the theoretical aspects of law. It cuts across the fields of contracts, torts, property, and looks at the importance of procedure in those fields as well as touching on some constitutional and criminal law issues. A more traditional book of legal theory, Fiss's Way: The Scholarship of Owen Fiss, followed, examining the scholarship of the a renowned constitutional theorist, Professor Owen Fiss of Yale Law School.
Along with writing articles and books, and teaching law courses, Stotzky soon began working with Haitian refugees who had fled their country and were now living in South Florida. Working with immigration attorneys such as adjunct faculty Ira J. Kurzban, Stotzky began handling these asylum cases. He also started the Miami Law chapter of the National Lawyers Guild, a progressive public interest association.
In the 1980s, Stotzky continued his public interest advocacy work, representing Haitian refugees who were incarcerated by the Immigration and Naturalization Service (INS) pending a decision on their asylum applications. Stotzky argued that by denying them parole, the INS discriminated against them on the basis of race and national origin and in violation of their rights under the Fifth Amendment's Equal Protection Clause.
In 1985, the U.S. Supreme Court heard the case, Jean v. Nelson, but refused to rule on the equal protection claim. Instead, they sent the case back to the district court to determine if INS officials had violated a relevant statute. "The U.S. government had conceded that the statute was neutral and could not be interpreted to discriminate on the basis of race or nationality," he said. "That guidance was actually helpful in future asylum cases."
Throughout the 1980s, Stotzky continued arguing for the rights of Haitian refugees. He was involved in litigation regarding President George H.W. Bush's 1989 decision to send back all refugees who had been stopped at sea by the U.S. Coast Guard without giving them an interview on their claims, as the law required. That case also made its way to the Supreme Court, which eventually ruled on behalf of the government. Stotzky wrote about those cases in his 2019 book, Send Them Back: The Legal Battle to Save Haitian Refugees.  
For his advocacy and advisory work, Stotzky has received human rights awards from the American Immigration Lawyers Association and the Haitian Refugee Center. He was also honored with the Inter-American Law Review's 1997 Lawyer of the Americas award and has been nominated for the Society of American Law Teachers Human Rights Award for career achievements.
On the personal side, Stotzky and his wife Audrey Goldman, J.D. '83, have twin sons, Jacob, a junior at the University of Miami, and Joshua, who is a junior at the University of Michigan. A vegetarian for 40 years, Stotzky enjoys swimming and working out daily. "I've enjoyed playing basketball, football, and running marathons, as well," he said.
TODAY'S LEGAL CLIMATE
Reflecting on today's legal climate, Stotzky says the optimism of the early 21st century has been eclipsed by nationalist and populist leaders cultivating an environment of fear. But that makes it more critical than ever for law students to consider public interest careers.
"All lawyers need to think about how we should live our lives," Stotzky said. "I believe we need to go beyond simply aiding our clients in their transactions and their disputes. We have a broader obligation to improve democracy, especially as the rights of immigrants and minorities are under attack around the world."
"To fulfill that mission, law students need a broad understanding of other disciplines, plus 'people skills,' and the ability to communicate verbally and in writing," Stotzky said. "To succeed as a counselor or advocate, you have to understand the appropriate subject matter, which might be climate change, immigration law, finance, or technology," he said. "Most importantly, you need to cultivate the habit of critical thinking in order to make well-informed decisions for yourself and your clients."