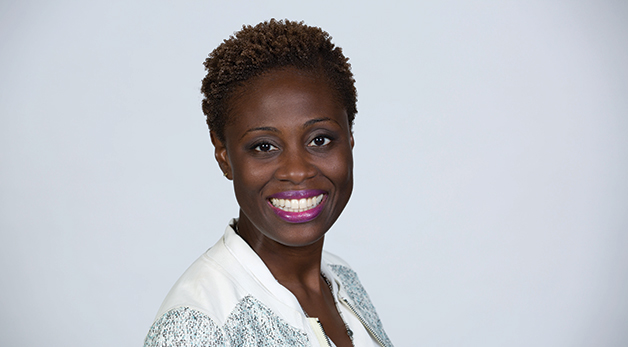 Professor Osamudia James
In her new dual roles as associate provost for diversity, equity, and inclusion within the University of Miami Office of Faculty Affairs, and associate dean for diversity, equity & community at Miami Law, Osamudia James will help lead University-wide efforts to recruit and retain more underrepresented faculty members.
As a dean's distinguished scholar and professor of law at Miami Law, James has embarked on a role to help the institution—at which she has taught for the past 12 years—succeed in its own mission of advancing racial justice, helping to spearhead efforts to recruit and retain more underrepresented faculty.
James had heard stories of how the 1954 landmark Supreme Court case Brown v. Board of Education was successful in ensuring equal educational outcomes for students. But when she stepped into a mostly Black public elementary school in West Philadelphia to begin undergraduate research toward a degree at the University of Pennsylvania, she was shocked at what she discovered: students who couldn't read and had undiagnosed learning disabilities.
"I was seeing in front of my eyes that none of what I had been told about the triumphalism of that case and the integrative ideal was true," James recalled. "There were such stark disparities between the public schools I had attended and the schools in which I was doing my research, and that really sparked my interest in the inequality that exists in education."
From that moment on, James dedicated herself to raising awareness about such inequities, going on to earn a law degree and studying and writing extensively about how race, gender, and class can limit or broaden opportunities in the United States' public education.
"How do we give people spaces to reflect on stages in their career? Can we implement a mentoring program, and how do we look at our hiring practices?" James said, noting just some of the issues she will be tasked with addressing. "Our hiring pool looks good, but by the time we get to actually making offers, something happens. So, can we interrogate those processes and understand how it is we're recruiting and hiring, and are there things that can be done to deepen diversity among faculty?"
James will work closely with Guillermo "Willy" Prado, vice provost for faculty affairs and dean of the Graduate School, who recruited her to the position. "When Osamudia served as acting dean of the law school, I had numerous opportunities to interact with her at academic deans' policy meetings," Prado said. "I've always found her to be immensely talented and incredibly knowledgeable on matters related to diversity and inclusion. I am honored to be able to work with Professor James on this very important initiative for the University."
The new associate provost considers her new role an ideal complement to her recent appointment as associate dean for diversity, equity, and community at Miami Law.
"I can think of no scholar and teacher more ably equipped to help lead us in addressing these challenges and opportunities than Osamudia," said Anthony E. Varona, dean and M. Minnette Massey Professor of Law at the School of Law.
"I also can think of no better time than now for Miami Law and UM as a whole to launch a comprehensive and deeply thoughtful effort in diversity, inclusion, and equity," Varona stated. "The U's rich diversity is its biggest advantage, and Professor James's dual roles will help us ensure that the U and Miami Law become even more welcoming of students, faculty, staff, and other community members representing the rich diversity of South Florida and the world itself."
The appointment of an associate provost in this role is a pivotal one, coming on the heels of a 15-point plan announced by President Julio Frenk in July to support racial equality, inclusion, and justice across the institution and in the South Florida community. "In general, and specifically at this time, students, faculty, and staff are demanding deeper engagement around issues of inclusion and difference," James explained. "Institutions across the country are responding in many different ways. Some of that is to create accountability, and that's the right thing to do."
The death of George Floyd while in the custody of Minneapolis police officers, as well as the fatal shooting of 26-year-old Breonna Taylor by Louisville Metro Police officers, has played a role in that demand for deeper engagement on diversity issues, James noted. "It's brought back to the forefront issues with which we've been struggling for a long time," she said.
James's appointment also comes as the nation marks 100 years of women's suffrage and as a new, dynamic figure rises on the political scene in the form of Kamala Harris, who became the first woman of color to be nominated for national office by a major political party when Joe Biden selected her as his vice-presidential running mate.
Harris, noted James, has helped shine a spotlight on diversity issues and that of trailblazing Black women. "I think progress for Black women has been a mixed bag. That is, this is an important moment to see a woman on a viable ticket. But at the same time, it is true that as she steps forward, the vitriol that will be leveled at her for daring to be in that space will likely be unprecedented," James said. "Already we're seeing sexist and racist attacks, and those will only intensify. For Black women watching, for Asian women watching, for all women watching, this will be an inspiring and galvanizing moment, but also a deeply fatiguing and at times devastating moment as we see how much further we have to go in terms of substantive equality for women in general and women of color in particular."
In many ways, James is a mirror of Harris. Like the vice-presidential nominee, she is a lawyer, has a younger sister and is the daughter of immigrant parents who were highly educated and successful.
Born and raised in Long Island, New York, to a Haitian mother and a Nigerian father who are both physicians, James grew up speaking English, Haitian Creole, and French, and hearing her father's native language. And that multicultural experience gave her a different framework for what a country could look like. "In addition to having the United States as my point of reference, I have Haiti as a point of reference. I have Nigeria as a point of reference," she said.
Some of her most cherished moments are of eating food, listening to music, and hearing her parents' language spoken in the household. "Those were deeply comforting moments. Those were moments that told me who I was," James said.
She played varsity basketball, tennis, and volleyball in high school, scored high on her SATs, and ranked seventh in her class. While she never experienced what she calls "life-defining moments" of systemic racism while growing up, she did encounter some forms of subtle discrimination, making her realize that prejudice can exist anywhere.
On one occasion, her high school academic guidance counselor, upon seeing some of the elite Ivy League schools on the list of colleges to which she planned to apply, told James that too many of the institutions she had selected were out of reach and that she needed to set her sights lower.
"At that time, I knew her comment wasn't right, as I was easily in the target area and an easy admission for all of those schools based on my scores, grades, ranking, extracurricular activities, athletics, and writing capacity," James recalled. "I've always wondered whether it had to do with the fact that I was a woman and a person of color. It might not have. And that's actually one of the difficulties with discrimination—sometimes you never know," she said.
"It's the weight of wondering, walking through the world thinking, 'Am I getting the opportunities I should get, and if not, does it have to do with my identity?' That's actually a huge psychological component that we don't think enough about," she added.
James also recalled a close high school friend telling her that the only reason she got accepted to Penn was because she was Black.
"In some ways, those stories still animate my thinking about access to educational opportunities but also questions about affirmative action and how we perceive capacity based on identity and not actually based on what people can do," James said.
After she graduated from Penn, she pondered the idea of enrolling in a graduate school of education but knew that the legal profession would afford better opportunities and broader options to make an impact. "And that has proved true," she said. "Lawyers learn not just the law, but a skill set that can take them in many different directions."
James enjoys teaching law students immensely, employing her own style of instruction to engage them. "I'm a little bit of a ham," she joked, noting that she has a Karaoke machine set up in her living room.
"There's a performance aspect to teaching that I enjoy," she said. "I enjoy sharing my perspective and I enjoy thinking, 'How do I present this material in a way that it's going to be most engaging for the people who are spending time with me?' No matter what I would have done, whether I became a law professor or maybe a high school teacher, I think I would have always derived joy from that engagement in the room."
This semester, she is teaching Torts to first-year law students, as she always does at Miami Law in the fall. "It's an opportunity to fundamentally orient students to the law," James said of the class that examines acts that result in injury to another person or property damage. "The conversations we have will shape how they look at classes in the spring, will shape how they look at law in the future. And it's an amazing privilege to be able to help build that with students. We're here to work, we're here to grow."
More on Social Justice and Public Interest at Miami Law