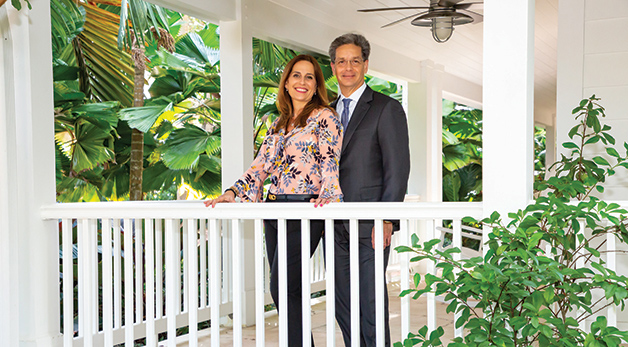 Caren and Peter Prieto, J.D. '85 (photo by Jenny Abreu)
Caren and Peter Prieto, J.D. '85, have established an endowed scholarship to benefit first-generation law school students with high academic merit, who are members of one of the school's law reviews or the Moot Court Board.
Cuban-born, Peter Prieto is a first-generation college graduate whose working-class parents taught him the value of an education and provided him with a thirst for learning.
"My parents never graduated from high school, let alone college, but throughout my childhood, they emphasized the importance of an education. Whatever success I may have achieved is, in large part, due to their advice and the education I received, especially at the University of Miami School of Law. Caren and I want to provide that opportunity to first-generation college students or law students who are driven to excel," says Peter Prieto. The Prietos want their scholarship to enable deserving students to receive a law school education.
Peter Prieto, a partner at Podhurst Orseck, is lead plaintiffs' counsel and helped litigate the largest, and ongoing, multidistrict automotive recall in U.S. history over defective Takata airbags. The actions against nearly all automakers were brought on behalf of more than 40 million plaintiffs; $1.5 billion has been collected in settlement awards to date.
Prieto's more than 30-year career spans work as a Federal Prosecutor in Florida and Washington, D.C., and as an Executive Partner at Holland & Knight, where he served as Chair of the firm's 400-lawyer litigation section. His current practice at Podhurst Orseck focuses on complex commercial litigation, class actions, and white-collar criminal defense.
Peter and Caren are proud members of the Law Parents and Partners Committee, which supports the health and wellness of the law school student body. In addition, Peter serves as the Vice-Chair of the School of Law's Fundraising Committee. The Prietos' son, David, is a law student at Miami Law. In addition to David, Caren and Peter have two other children:  Isabella, a junior at NYU, and Daniel, a high school senior who is on the Autism spectrum.
In endowing their scholarship, Peter Prieto says, "our goal is to be able to help one deserving student at a time receive a quality legal education. If we're able to do that over a span of 20 or 25 years, we're hopeful that we can touch many young lives and provide a platform for future, successful lawyers."