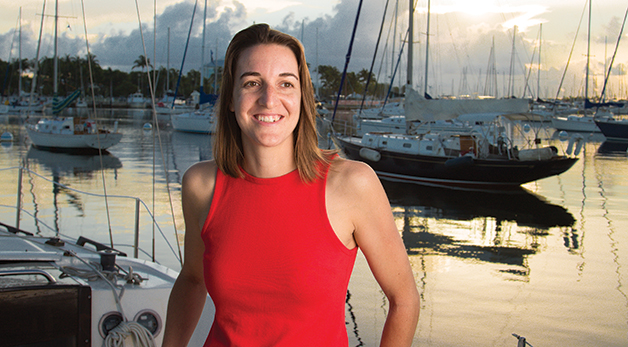 Annie Brett, J.D./Ph.D. '17
Fresh off two-year fellowships at Stanford's Center for Ocean Solutions and as a fellow at the World Economic Forum Center for the 4th Industrial Revolution through a partnership between Stanford COS and the World Economic Forum, Annie Brett is prepping for her latest career move - teaching environmental law at the University of Florida Levin School of Law.
"I'm just home from some time on the water helping my brother deliver a boat from Florida to Maine. It was a nice break," she said from her home in Lake Worth, Florida. "Now I am preparing to teach coastal law at UF. I haven't taught there before but I just finished teaching a policy course at Stanford Law School on illegal fishing."
After graduating from Harvard University, Brett was the University of Miami's inaugural J.D./Ph.D. in Environmental Science and Policy graduate student. 
"I was the first to do this kind of joint program, so there were a lot of unknowns. I am grateful I found an extremely supportive environment at UM. Faculty and staff from both of my programs went beyond what was necessary to help me," she said.
The Maine native completed both degrees in five years, which is an impressive feat for any doctoral student, let alone one seeking a joint degree. She was also named a Doyle fellow, after the University of Miami School of Law Dean Emerita and Professor of Law Emerita Mary Doyle, who was deputy general counsel of the U.S. Environmental Protection Agency during the administration of President Jimmy Carter. Doyle also served in the U.S. Department of the Interior as acting assistant secretary of the interior for water and science and as chair of an intergovernmental panel coordinating a massive 20-year $7.3 billion Everglades restoration program.
"It is a fantastic honor to be named one of the inaugural Doyle fellows," said Brett. "The joint J.D./Ph.D. program has provided me with the unique opportunity to directly combine research in law, science and policy, an unparalleled preparation for a career that I can only hope follows in Mary Doyle's momentous footsteps."
Brett's 2018 Ph.D. from the Abess Center for Ecosystem Science and Policy allowed her to take an interdisciplinary approach to research and complement that with her interest in legal studies. Her research focused on the different methods of ocean data collection and the use of data in legal contexts, particularly on data from citizen scientists and new technologies. These methods are crucial for gathering information on the ocean to create marine laws.
Law review and dean's fellowships are the two standouts Brett cites for her achievements today. "Being the senior articles editor was great in terms of reading scholarship and figuring what other people were thinking about and what was interesting," she said. "Being a dean's fellow for Professor Hill in constitutional law and Professor Stotzky for elements showed me how much I enjoyed teaching law."
Before coming to Miami, Brett spearheaded international ocean conservation initiatives for David Rockefeller Jr. and was the captain of a sailing research vessel that operated extensively throughout the Pacific Ocean. She has been recognized as the youngest female captain in the Pacific region and received numerous academic and governmental awards for her research and work on ocean conservation policies.
"The accessibility of faculty at Miami Law was phenomenal for me, just to be able to work closely with amazing faculty was really formative, and particularly faculty that were interested and working on environmental and oceans issues – like Daniel Suman and Bernard Oxman. Going to Chile with Suman was really fun – and a great class and hands on experience. I learned a ton from them," she said. "I will be teaching coastal law at UF – something they have not had in recent years. I took coastal law with Suman so I feel like I have exposure that other schools don't necessarily have to these kinds of ocean issues."
Read more about Miami Law's environmental law program
Read more about Miami Law's J.D./Ph.D. in Environmental Science and Policy