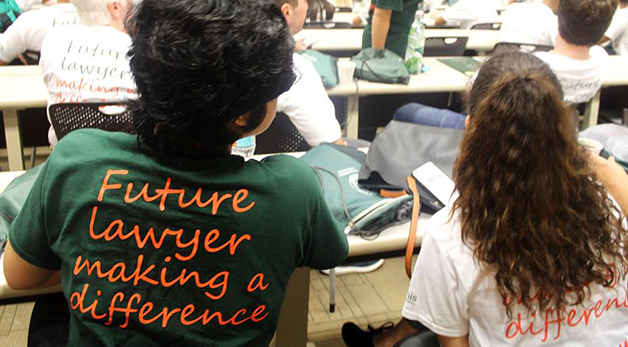 "Never doubt that a small group of thoughtful, committed citizens can change the world. Indeed, it is the only thing that ever has." This Margaret Mead quote, which is incorporated into many of the HOPE Public Interest Resource Center's materials, will be brought to life at the upcoming virtual Public Interest Recognition Ceremony.
On Thursday, April 16, 2020, the Miami Law community will gather online to recognize those outstanding students who have excelled in public service throughout the 2019-2020 academic year. Registration for this virtual event is available online.
The annual event is hosted by Miami Law's HOPE Public Interest Resource Center and highlights Miami Law's strong pro bono ethic and the remarkable student participation in community and public service activities.
Marni Lennon, HOPE director and Assistant Dean for Public Interest and Pro Bono says, "Now, at a time when we are all aware of the glaring disparities in our communities, the imperative for access to justice and how difficult navigating systems can be, it is important to celebrate the students who give of their time to make a difference in the lives of others."
As part of the Pro Bono and Community Service Challenges, Miami Law students pledge to complete a miminum of 25 hours of community service each year and 75 hours of pro bono service before graduation.
Students will be recognized who have gone above and beyond and have completed the greatest number of pro bono and community service hours among their peers. Lennon will present the HOPE Community Service and HOPE Pro Bono Challenge Awards to a student in each class.
"We are thrilled to recognize the students who have achieved the Pro Bono Challenge, completion of 75 hours of pro bono work," said Lennon. "These students make the choice to give back through pro bono work in agencies locally, nationally and internationally without receiving credit or compensation. Each year, more and more students meet the challenge and it couldn't come at a more important time, as our community faces an ever-increasing access to justice gap."
Adds Lennon, "Miami Law and our students embody a commitment to pro bono and public service and we are so glad to have the opportunity to convene and recognize our exemplary students for their work."
Register to Attend the Virtual Ceremony
More on Public Interest Opportunities at Miami Law