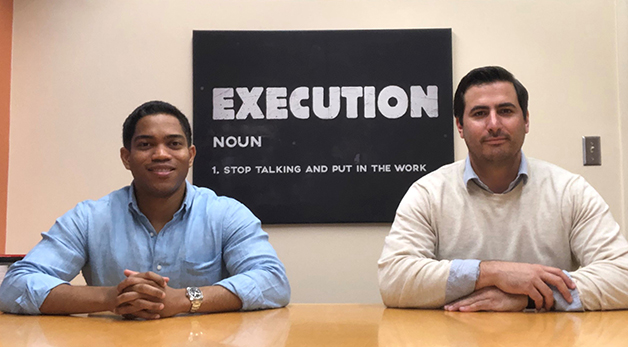 Osaro Qualis and Wifredo Fernandez
Following up on a Miami Law story from December, the Securities and Exchange Commission this month proposed substantial rule changes regarding startup funding and specifically the ability of startups to receive investment through unregistered ("exempt") securities offerings like venture capital, angel investment, and crowdfunding.
Sole Law School and Law Students Cited by SEC
In its proposed rules, the SEC cited comments submitted by third-year law students Osaro Qualis and Wifredo Fernandez last semester on behalf of the Startup Practicum. Qualis and Fernandez were the only law students cited by the SEC in its proposed rules and Miami Law was the only law school cited as well.
"This is an unparalleled recognition of the contribution our students are making to shape the future of the law of financing startups," said Startup Practicum Director Dan Ravicher. "The federal agency responsible for making and enforcing the law of startup funding citing in proposed rules comments submitted by our students confirms that Miami Law is one of the top law schools in the country for law students to learn about, and affect, the law's impact on innovation."
Comments Focused on Increasing Investment Limits for Certain Investors
The SEC notes in the proposed rules that the Miami Law students supported increasing the investment limit for accredited investors in crowdfunding campaigns, but opposed increasing the limit for non-accredited investors, respectively. Non-accredited investors have less net worth and more exposed to the risk involved with startup investing and thus deserve greater protections under the law than more wealthy accredited investors who can withstand investment losses.
"Having previously studied administrative law under the venerable Professor Charlton Copeland, I gained an appreciation for notice-and-comment rulemaking procedure," said Fernández, also a legal fellow for the Cyber Civil Rights Initiative, and the Center for Ethics & Public Service.
Students Comments Specifically Mentioned by SEC Commissioner
In addition to being cited by the SEC in its proposed rules, Qualis and Fernandez's comments were also specifically cited by Commissioner Hester M. Peirce in her statement released in conjunction with the proposed rules. In her statement, Peirce quoted Qualis and Fernandez to emphasize the interests they highlighted in their comments.
Fernández acknowledges the impact this has had on him, "This opportunity to actively participate in such an important public process has brought my legal education full circle."