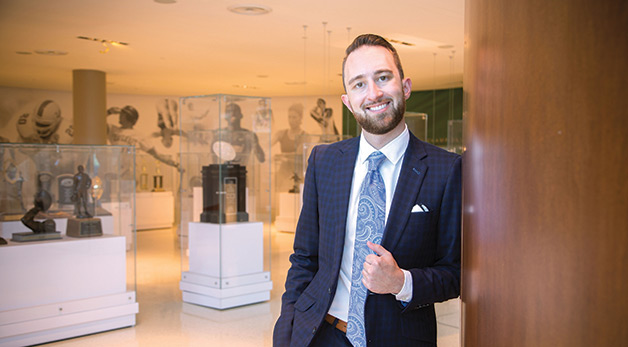 Samuel Stone (Photo by Joshua Prezant)
Samuel Stone has been a sports fan his entire life. While his childhood dream of playing for the New York Yankees may never come true, he's well on his way to a successful career in the dynamic field of sports law. 
An all-star law student, Stone completed the joint J.D./LL.M. program in Entertainment, Arts and Sports Law (EASL) at Miami Law, where he was an active member of the University of Miami Law Review and Entertainment and Sports Law Society. He has regularly attended the annual Sports Lawyers Association conference, learning about the field and networking with leading professionals in the industry. 
In April 2019, Stone received the Dean's Writing Prize in Entertainment, Arts and Sports Law for his paper on National Football League labor relations. He was also a team captain in Professor Peter Carfagna's course on the "Purchase and Sale of a Minor League Baseball Team"—one of his favorite courses in the EASL LL.M. program. 
"Sam is one of the best sports law students I have taught anywhere," said Carfagna, Director of the Sports Law Track, Chair of the University of Miami's Sports Law Advisory Committee, and Chairman/CEO of Magis, LLC, a privately-owned sports marketing, management, and investment company that includes family ownership of the Lake County Captains, a minor league affiliate of the Cleveland Indians. "Sam will make our sports law program proud in the years ahead." 
A LIFELONG SPORTS FAN 
For Stone, the decision to go into sports law was a slam dunk. His Bronx-born father, Steven, is a distinguished labor attorney in Virginia and a third-generation New York Yankees fan. Growing up in Alexandria, Virginia, Stone and his family often traveled around the country to see the Yankees. He began playing baseball at an early age and developed an affinity for basketball after Michael Jordan came out of retirement to play for the Washington Wizards in 2001. 
Stone was captain of an undefeated graduate student team that won the campus-wide intramural basketball championship in the spring of 2019. "I've always enjoyed being a contributing member of a successful team," he added. So does his older brother George, who works for the Yankees as a Senior Retention Sales Specialist. 
Along with his love of sports, Stone also has an aptitude for academics, graduating magna cum laude with a bachelor's degree in finance from Virginia Tech.  
As an undergraduate, he began his career by securing a summer job with the Washington Nationals at the suggestion of his mother, Lynn Jason, an award-winning hotel professional, who moonlighted as a gameday concierge when the team opened its new stadium in 2008. Stone worked for the Nationals as a batboy and clubhouse attendant for four seasons. "This was an incredible position which gave me great exposure to the inner workings of a professional sports organization and memories that I will cherish for the rest of my life," he said.  
After receiving a full-tuition scholarship offer from Miami Law, Stone traveled to the campus to meet with Harold Flegelman, EASL LL.M. founding program director and continuing Director of the Entertainment Track, and Greg Levy, the current EASL LL.M. program director. "Harold and Greg made me feel right at home. After discussing their vision for the program, I knew the school was a perfect fit for me." 
SPORTS INTERNSHIPS 
As a first-year law student, Stone met John Ruzich, B.S. '96, Chief Administration Officer and Chief Legal Officer of Legends, a leading global stadium management, sports, and entertainment company controlled by the New York Yankees and Dallas Cowboys. Legends then chose him for a summer internship in New York City with the business and legal affairs department of the company. 
The following summer, Stone completed internships with both Legends and the Minnesota Vikings. The Vikings had just opened a new team headquarters, where Stone worked on vendor, insurance, and operational contracts for the team's inaugural training camp at the TCO Performance Center. 
"Once training camp started, I worked on broadcast, sponsorship, and suite agreements in preparation for the upcoming season," he added. "I also had the privilege of attending high-level meetings regarding the development of Vikings Lakes, the mixed-use real estate project surrounding the team headquarters."  
In his third year of law school, Stone was a legal intern with the Miami Dolphins and Hard Rock Stadium. "Working with both the Vikings and Dolphins gave me exposure into the different ways that successful and innovative sports organizations and ownership groups operate," he said. 
Last fall, he interned for the Orange Bowl Committee as an Assistant to the Chief Financial Officer. 
THE NEXT CHAPTER 
Stone graduated magna cum laude with his J.D. degree in May of 2019 and with his LL.M. degree in December, earning the Dean's Scholar Award, which is awarded to the EASL LL.M. student with the highest grade-point average. Stone passed the New York bar exam last July and is currently awaiting admission to the New York State Bar (currently on hold given to the impact of Covid-19). 
"The EASL program has been amazing," he said. "The professors and faculty have helped me develop my legal and business acumen. Their support, combined with the support of my parents, grandparents, siblings, mentors, and friends, has given me a platform to pursue my goals of working in the sports industry in a legal capacity. For that, I am truly thankful."