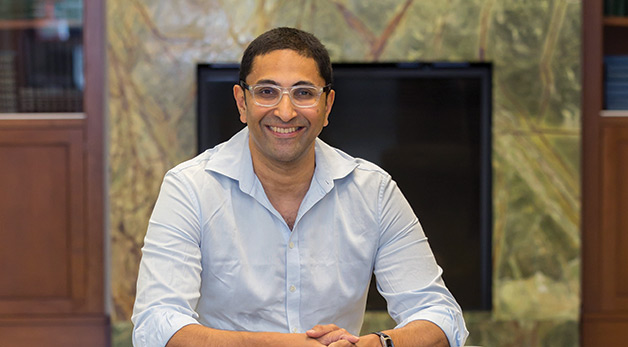 Professor Kunal Parker (Photo by Joshua Prezant)
Professor Kunal Parker, a Dean's Distinguished Scholar at Miami Law and a historian of U.S. immigration and citizenship law and American legal thought, was named as a 2019-2020 Princeton University Program in Law and Public Affairs (LAPA) Fellow. LAPA fellows spend the academic year working on their own research projects, participating in law-related programs, and engaging with faculty and students. Parker is working on his current book project exploring the turn to ideas of process in mid-twentieth century American legal, political, and economic thought.  
"I am very grateful to Miami Law and the LAPA program at Princeton for supporting my research," said Parker. 
Parker's teaching areas and interests include American Legal History, Trusts and Estates, Immigration and Nationality Law, and Property. He has written two books: Making Foreigners: Immigration and Citizenship Law in America (New York: Cambridge University Press, 2015) and Common Law, History, and Democracy in America, 1790 – 1900: Legal Thought Before Modernism (Cambridge University Press; 1 edition, 2011). His scholarship has also examined such subjects as the interrelationship between American legal and historical thought, and the history and theory of U.S. immigration and citizenship law.