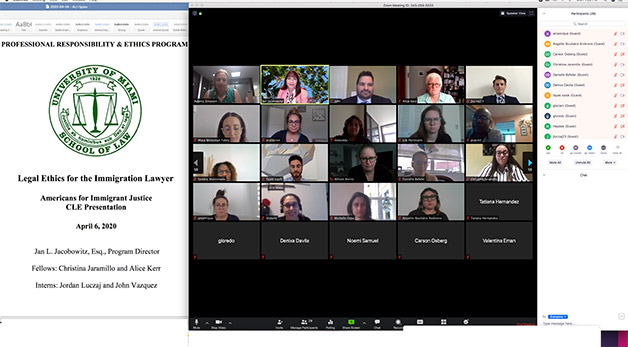 PREP conducting CLE on Zoom
Miami Law's Professional Responsibility & Ethics Program is known for being out and about in South Florida presenting its customized ethics and technology interactive continuing education programs. The current circumstances have not deterred PREP's innovative, hard-working students.
In fact, PREP returned recently to both the Key Biscayne Bar Association and American's For Immigrant Justice to present its annual programming via Zoom. The students incredible effort resulted in a seamless virtual delivery of the high-quality content for which PREP is renowned. During both programs PREP facilitated meaningful virtual audience participation, and the transition from in-person to virtual, interactive presentations was relatively smooth, considering the unprecedented circumstances.
Ethics Training on Social Media and More
PREP Director Jan Jacobowitz was joined by PREP interns Tesneem Shraiteh, Amanda Rementeria, Katelin Stephens, and Camila Rivero-Fernandez at the Key Biscayne presentation that included hot topics such as advising clients on social media use, the ethics of advising the cannabis industry, best practices for "friending" judges on Facebook, the mandate for technological competence, and the use of geofencing for attorney advertising.
"I enjoyed hearing feedback from members of the legal community about how they deal with clients' social media in their own practice," said Shraiteh. "It was also an incredible opportunity to virtually connect with others in an otherwise trying time. Being part of PREP's first virtual CLE shows that PREP doesn't just speak about new technology; we are engaging with it in real time. Going forward, I am excited to take my newfound virtual presentation skills and use them in my legal career."
Networking with the Legal Community
"Our presentation with the Key Biscayne Bar Association was a great opportunity to virtually connect and interact with the legal community," said Rementeria. "The lawyers in attendance were engaged and excited to discuss current ethical issues regarding social media and technology. I am proud of PREP for overcoming obstacles surrounding this unprecedented time and putting together an informative and interactive online CLE presentation."
"Successfully pivoting from an in-person presentation to a Zoom presentation presented some unique challenges like ensuring connectivity and addressing the challenges of ambient noise and lighting," added Stephens. "The entire PREP program was so supportive in the face of our team's newest challenge. The sincere gratitude from the attorneys in attendance reinforced that even in this era of social distancing, we are still able to come together in powerful ways."
Developing Virtual Presentation Skills
"Researching a brand-new topic was both challenging and rewarding," said Rivero- Fernández. "It was great to hear that no audience member had used, or even heard of, using location-based targeted advertising i.e. geofencing. It was a presentation with many firsts: we analyzed the ethical implications of a cutting-edge topic while using a new method for disseminating our research. Because this presentation was such a success, I look forward to more opportunities to showcase my new virtual-presentation skills."
PREP Interns John Vazquez and Jordan Luczaj presented "Legal Ethics for the Immigration Attorney" to Americans for Immigrant Justice. The presentation facilitated an engaging discussion highlighting not only ethical pitfalls and challenges but also best practices as takeaways.
Vazquez opened the presentation by discussing the complexity of immigration law and the difficulties that immigration attorneys practicing in this field. His hypotheticals then focused on the ethical issues and challenges when representing clients with diminished capacity. In addition, the discussion highlighted nuances in the rules of communication, confidentiality, competence, and conflicts of interest.
"I was very appreciative of the AIJ participants for providing their real-world experiences and comparing them to the hypothetical scenarios discussed during the presentation," said Vazquez.
Also, of note was the group's proficiency in using the Zoom chat feature to augment the conversation and highlight additional issues for the group to discuss.
Luczaj then discussed conflicts of interest issues between current clients, the value of attorney-client communication, and the representation of a minor. The hypothetical sparked some great discussion, especially regarding conflicts of interest, which are often some of the most difficult ethics issues to spot. "
"I learned so much throughout the entire AIJ CLE presentation process," said Luczaj. "Working with AIJ and delivering the presentation via Zoom allowed me to learn about immigration law, improve my public-speaking skills, and utilize a new virtual communication platform. The AIJ attorneys were very engaged and offered some real-world perspective for us law students."
More on the Professional Responsibility & Ethics Program
See the PREP blog, Legal Ethics in Motion