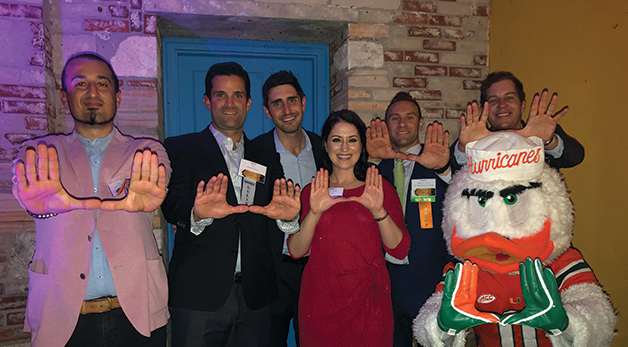 Young Alumni Committee members with Sebastian the Ibis
Miami Law's Young Alumni Committee
WHO THEY ARE
Members of the Young Alumni Committee (YAC) play an integral role in fostering relationships with recent graduates by engaging them as peers, offering mentorship, and building community. Bridging the gap between recent graduates (1 to 10 years out), more seasoned graduates, and current Miami Law students, the YAC offers its members leadership opportunities in a variety of roles in addition to peer to peer networking socials and events. Additional YAC initiatives have included gallery tours, family barbeques, kickball games, and sporting events.
SIGNATURE ANNUAL FUNDRAISING EVENT
Kudos to the Young Alumni Committee and its fundraising chairs who raised over $20,000 at their February 2019 annual fundraising social—a record! Taking place at the chic Forge restaurant on Miami Beach, the event was crowned by the participation of Manny Diaz, Jr., head coach of the Miami Hurricanes football team. This was Coach Diaz's first public event as the new head coach leading the 'Canes. His father, the Honorable Manny Diaz, Sr., J.D. '80, also attended. Proceeds from the annual event benefit the Young Alumni Scholarship Fund.
Be on the lookout for news of the YAC's 2020 fundraiser hosted by Southern Glaser Wine & Spirits at SGWS Wynwood in Miami.
TABLE OF EIGHT GOES VIRTUAL
A favorite event among many young alumni, the YAC's Table of Eight dinners offers the chance to dine and converse with distinguished Miami Law graduates. Recent honored guests have included The Honorable Thomas Rooney, J.D. '99, and Tara Rooney, J.D. '99; Jorge Luis Lopez, Esq., J.D. '87; Dean Colson, J.D. '77; and Aileen Ugalde, J.D. '91. Past guests have included Craig L. Robins, J.D. '87; Roy Black, J.D. '70; Leslie José Zigel, J.D. '95; and Carolina Garcia Jayaram, J.D. '05, as well as distinguished judges.
Starting in April 2020, the Table of Eight went virtual. Ed Pozzuoli, J.D. '87, and the Hon. Gina Beovides, J.D. '05, were our first distinguished alumni in this enhanced format. To learn more or to get involved, send an email to yac@law.miami.edu.