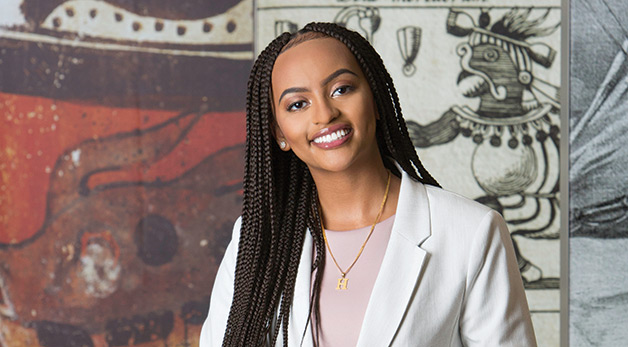 Hawwi Edao (Photo by Joshua Prezant, The Gallery at the Kislak Center)
Hawwi W. Edao has come a long way from her birthplace in Shashemene, a rural village in the mountains of Ethiopia. Now, a third-year student at Miami Law, she has overcome a series of challenges to make an impact on the school and the community. "Law school has helped me break out of my shell," said Edao. "It's been an amazing journey so far, and I've enjoyed every step of the way." 
As a young child, Edao was diagnosed with a congenital heart defect. Her father came to the United States in search of medical care and brought the family to Portland, Oregon. "I had open-heart surgery before elementary school," Edao said. "Without that, I wouldn't be here." 
Growing up, Edao saw her father working two jobs while going to community college. Her mother was also working two jobs to help support Edao and her two brothers. "Education was really important in our family, and seeing the sacrifices my parents made, I was determined to go to college." 
After graduating from high school in Portland, Edao was looking for a different academic experience and chose the University of Miami. "UM was ranked number one in terms of diversity, which was very important to me," she said. "I was fortunate enough to get a scholarship here as a first-generation college student." 
Initially, Edao focused on a pre-med curriculum, planning to major in microbiology and immunology. As a sophomore, Hawwi began working as a Student Assistant in Miami Law's HOPE Public Interest Resource Center. "I met a lot of law students, faculty, and alumni," she said. "I would listen and just soak up everything I heard." That experience led her to take business classes, with a focus on law, public policy, and the regulatory aspects of health care.  
Meanwhile, Edao served as a Resident Assistant on campus, was named to the President's List and the Dean's List, and was honored as a civic scholar through the Butler Center for Leadership and Service. Along with her father, she started "It Takes a Village Charity" to collect school supplies, clothes, and toys for children in Ethiopia.  
In her junior and senior year, Edao volunteered for the Thelma Gibson Health Initiative, assisting low-income residents of West Coconut Grove; Switchboard Miami; and the Portland Oromo Community Association, which serves the city's Ethiopian community. 
A TRANSFORMATIVE EXPERIENCE 
While still an undergrad, Edao signed up for a course on mass incarceration and immigration detention that turned out to be a transformative experience. She volunteered with Friends of Miami-Dade Detainees, a local partnership with the Humanities Action Lab of 20-plus universities that confronts social issues. "I conducted several weeks of archival research on the history of mass incarceration in South Florida, courtesy of the University of Miami Library Special Collections, and attended weekly visitations at Krome Detention Center," she said. "It was a very moving experience hearing from detainees who did not have a voice in their future." 
Drawing on that experience, Edao compiled a piece of art showing images of Krome and the migration and incarceration of Haitians and Cuban immigrants. The national "State of Incarceration" traveling exhibit, which debuted in 2017 in Miami at the Wesley Foundation Gallery with support from the UM Office of Civic Engagement, accepted her work. The State of Incarceration National Conference in New York also invited her to present her research and artwork.  
DEMONSTRATING LEADERSHIP 
After graduating in 2017 from the School of Nursing and Health Studies with a bachelor's degree in public health and a minor in business law and health sector policy, Edao continued her education at Miami Law. The Miami Scholars Program for public interest-oriented students seeking to become engaged citizens and lawyers in the world accepted her into its ranks. 
At Miami Law, Edao became a member of the Honor Council and serves as managing editor for the International & Comparative Law Review, and class governor for The Florida Bar Young Lawyers Division Law Student Division. She also decided to explore her career options as a future lawyer. 
"Until I took litigation skills in my second year, I was very shy in the classroom," Edao said. "That class helped me grow personally and professionally." Edao also accepted a summer intern position at the Miami office of Foley & Lardner, an international law firm, and later received a fellowship to support her studies.  
Now, Edao is looking at business litigation, including patent and trademark law, as her career path for the future. "I would advise our law students to keep an open mind and try things outside their comfort zones," she said. "I was planning to go into the public sector but found myself drawn to business litigation. This is truly a law school with something for everyone."