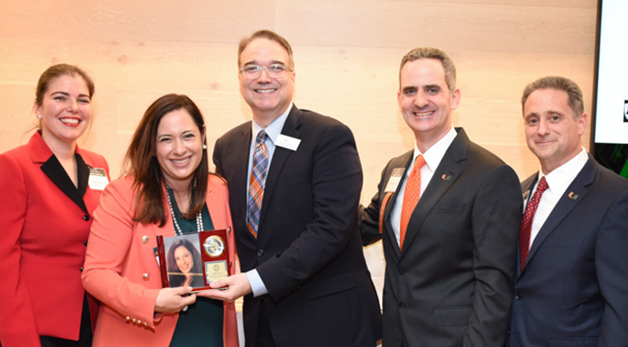 Marie Mato, JD '99, Judge Monica Gordo, J.D. '99, Dean Anthony E. Varona, Jason Kairalla, JD '02 and Dan Newman, JD '91
Four prominent Miami Law graduates were honored by the Law Alumni Association on March 2nd at the annual Miami-Dade, Broward, and Palm Beach judicial receptions. Spencer D. Levine, J.D. '82, Monica Gordo, J.D. '99, and Patrick M. Hunt, J.D. '85 were each presented with the Law Alumni Achievement Award, while the Honorable Michael Satz, J.D. '67, received the Law Alumni Leadership Award.
Spencer D. Levine is a judge on the Florida Fourth District Court of Appeal. He was appointed by former Governor Charlie Crist in April 2009. Judge Levine previously served as an Assistant State Attorney in the Palm Beach County State Attorney's Office, where he was Chief of the Economic Crimes Division, as well as the Organized Crime and Official Corruption Unit. He also served as the Director of the Medicaid Fraud Control Unit in the Florida Attorney General's Office, and as General Counsel to the Palm Beach County Sheriff's Office.
Judge Monica Gordo was appointed by Governor Ron DeSantos to the Third District Court of Appeal on April 25, 2019. Prior to her appointment to the Court, Judge Gordo served as a Circuit Court Judge for over 8 years presiding in the Criminal, Civil, and Family trial court divisions. Judge Gordo also served as Associate Administrative Judge of the Circuit Court Appellate Division in Miami-Dade County and served as an Assistant State Attorney for over 11 years where she was a Division Chief responsible for supervising a felony division and investigating, indicting and seeking justice in homicide cases. Judge Gordo is an Adjunct Professor at Miami Law teaching trial skills.
Patrick M. Hunt is a federal magistrate judge for the United States District Court for the Southern District of Florida. He was appointed on January 28, 2013, and his current term will expire on January 27, 2021. He received his B.A. degree, summa cum laude, from Tulane University, after spending his Junior Year Abroad studying at the Sorbonne in Paris. He received his J.D. degree, cum laude, from Miami Law, where he was awarded a Reid Scholarship and was a member of the Law Review. Prior to his appointment to the bench in 2013, he was a trial lawyer with the Federal Public Defender in Fort Lauderdale and Miami for more than 20 years. He has also worked as an associate with Joseph Beeler, P.A., in Miami and was in private practice in New Orleans from 1992 to 1995.
Michael J. Satz is a state attorney for Florida's 17th judicial circuit, covering Broward County. He was elected in 1976 and has been re-elected every four years since. He continues to regularly handle the prosecution of capital homicide cases and other serious crimes while overseeing a staff of 511, including 215 Assistant State Attorneys. Early in his career, Satz recognized the needs of victims of crime and instituted a Victim Early in Advocate Unit to provide counseling and assistance to victims. For his efforts, he received the 2004 President's Award by the Broward Victim's Rights Coalition.
The Alumni Achievement Award recognizes alumni nationally who have excelled in their chosen profession and in service to Miami Law. The Alumni Leadership Award recognizes excellence, specifically in the area of leadership. The award often recognizes Bar leaders or directors and presidents of service organizations.