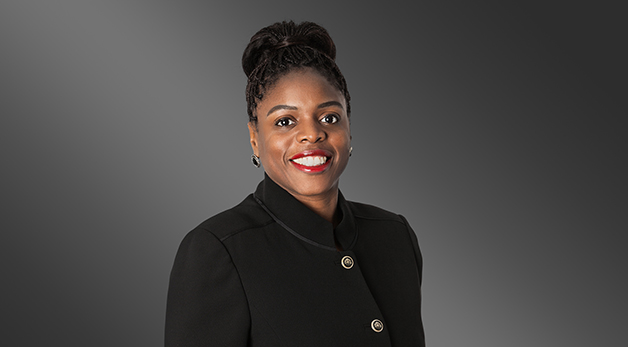 Nikki Lewis Simon, J.D. '99
Nikki Lewis Simon, J.D. '99 and adjunct in the externship/litigation program, is a commercial litigator with more than 20 years of experience. She is a shareholder and primarily serves as GreenbergTraurig's chief diversity officer.
In this capacity, Simon designs and guides strategic initiatives and programs to deepen firm-wide diversity and inclusion efforts that further enrich client engagements and community investments.
The mother of five counts her ongoing commitments to family, faith, and service as the keystone to the arch of her life's work.
How did your experiences in law school construct your path?
My pre-law and law school experiences in the James Weldon Johnson program, the Student Bar Association, and the Black Law Students Association are just some examples of what helped shape and expand my career goals by exposing me to different types of lawyers and practices. Each organization and the people in them had a variety of perspectives about life and the law that were helpful to me in formulating my own direction.
To what do you credit your achievements?
I attribute my success to my faith, family, and mentors. My faith has always guided me and provided a source of strength and resiliency. My family's continued support and encouragement remain critical, along with the insightful words and advice from my mentors.
How did the Miami Law network support your achievements through the years?
The Miami Law network has been an ongoing resource for advice and opportunities throughout all stages of my career. For example, I work with dozens of UM Law alumni at my firm and often communicate with other alumni through my service in The Florida Bar, the Gwen S. Cherry Black Women Lawyers Association, the Dade County Bar Association, and other organizations. The UM Law network is essential to creating opportunities for me and others to be engaged in the legal, business, and civic landscapes.
As an employer, what skills do you hope students develop in law school?
Grit, or GRIT, is an important skill set for students to develop and bring into the workplace. Whether defined generally or as "growth, resilience, instinct, and tenacity," having the ability to persevere, accept constructive criticism, and "fail forward" are some of the skills that are central to being able to survive and thrive in any role about which one is passionate and to make a difference.
You are a leader in the profession and a chief diversity officer for a major law firm; what are some of the initiatives that you have led to advance diversity and inclusion in the legal field?
Advancing inclusion and belonging take a diverse team that is focused on listening, learning, and executing on a strategic vision that empowers each person to bring their full selves to their work. Whether it is in my firm or through my activity in various community organizations, the focus is on efforts that help recruit, retain, develop, and promote diverse talent, as well as continuing to support and advance a culture of full inclusion.
Although there are a lot more women going to law school (last year over 50%), the profession is predominately male. What would you advise women new to the field?
My advice for anyone new to this industry is to try to find a workplace and team that support full inclusion. An inclusive workplace or team will appreciate that diversity across all areas, including background, experiences, gender, and ethnicity, helps create teams that are better equipped to provide solutions to client needs. I would also encourage all of us to practice empathy.
Newer generations of lawyers, value wellness and work-balance more strongly than before. As a shareholder in a major law firm, what advice do you have for new lawyers/prospective lawyers?
Mental health and wellness are key aspects of lawyer well-being. My advice for lawyers at all levels and prospective lawyers is to explore and use a variety of tools that support their overall well-being, including many of those that can be found at The Florida Bar 
Read about more Miami Law alumni