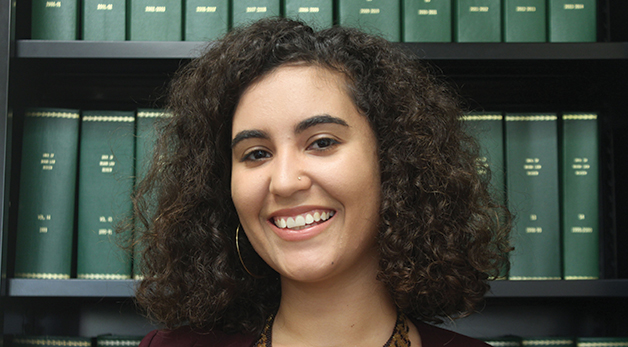 Hannah Gordon, 3L
Third-year law student Hannah Gordon was recently named winner of a 2020 Law360 Distinguished Legal Writing Award—a part of the prestigious Burton Award. Gordon, who serves as Editor-in-Chief of the University of Miami Law Review, was one of 15 law students from around the country to receive this prestigious award, and the third Miami Law student to win.
Gordon's paper is titled "Cowboys and Indians: Settler Colonialism and the Dog Whistle in U.S. Immigration Policy."
"The paper compares early Supreme Court cases defining the status of Native Americans to contemporary immigration policy that treats Central American and Mexican migrants—many of whom are of indigenous descent—as 'illegal people,'" explains Gordon. "It was largely borne out of personal experience. I am Native American, but I am often mistaken for Hispanic.
"I also spent several years living in Honduras. The historic connection between indigenous peoples north and south of the border was something I had been thinking a lot about before starting law school, and it certainly informed my legal education. Additionally, I am a fellow in the Immigration Clinic and pursuing a career in immigration law."
Now in its twenty-first year, the Burton Awards were established to honor the finest accomplishments in law, including writing, reform, public service, public interest, regulatory innovation, and lifetime achievements in the profession.
Gordon is the fourth Miami Law student to win a legal writing award in the past three years. J.P. Shami received the Burton Law360 Writing Award in 2017, Nicole Chipi won the 2018 Brown Award for Excellence in Legal Writing, and Elizabeth Montano won the Burton Award in 2019.