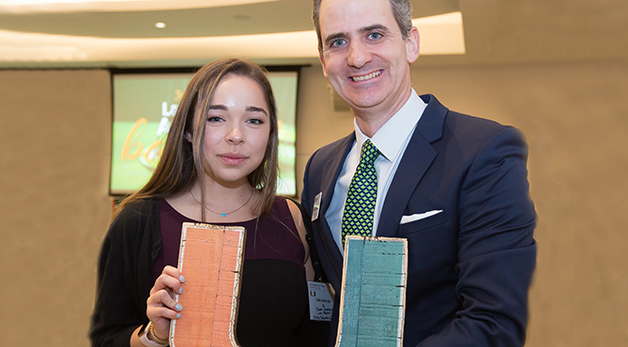 Talia Boiangin, 3L, with Jason Kairalla, J.D. '02
Talia Boiangin is not a coder, nor is she an engineer. She's a Miami Law student, who is on a mission to change the world using the law and technology to fight for social justice. And, one of her socially-conscious projects recently placed third in the Law School Admission Council's Inaugural Justice Innovation Challenge, bringing recognition to the University and increasing access to justice.
As a "technologist" – someone who loves technology, advocates for its advancement, and believes in its ability to solve problems great and small – Boiangin knew early on that Miami Law was an obvious choice for her legal education. When she applied, she says, "Miami Law was one of the most innovative law schools that I had come across – and it still is."
And, while Boiangin's passion for public interest was first ignited in law school, her love of technology goes back to her childhood; she recalls getting her first computer when she was eight years old and consistently being fascinated by the ways that technology reflected and shaped the world around her as she grew up. She carried on her interest and love of technology in college, where she worked for Apple troubleshooting MacOS and iOS products. Indeed, even as a junior, she already decided that she wanted to pursue the intersection between law and technology as a career path.
The summer after that year, she began interning for the Cyber Civil Rights Initiative, a nonprofit organization that fights for the rights of and provides resources to victims of nonconsensual pornography and other online abuses. It was here that Boiangin was first exposed to the ways that law and technology can be used to advocate for the rights of minorities and other vulnerable groups.
CCRI is headquartered at Miami Law, and Professor Mary Anne Franks serves as its president. Through Boiangin's time at CCRI, and in working with Professor Franks, she learned more about the ways in which Miami Law was working with technology to break barriers of social inequality. Then, as she began law school and continued volunteering her time with CCRI, she became more involved in social justice and public interest.
The summer after her first year of law school, she was selected as a recipient of the Access to Justice Tech Fellowship, which she credits with exposing her to the ways in which technology can be integrated into direct legal services. "The Fellowship," which she found via the HOPE Public Interest Resource Center, "changed my mindset, and encouraged me to think innovatively to help minorities and low-income individuals."
Boiangin took this experience and expanded upon it during her second year of law school, during which she worked for Legal Services of Greater Miami and helped them update their online legal intake forms. She has carried her pro bono ethic with her this summer, to a Law, Innovation, and Technology clerk position at Carlton Fields. The firm – particularly president of the University of Miami Law Alumni Association, and Chair of the Carlton Fields Tech Innovation Task Force Jason Kairalla, and Director of Legal Project and Practice Management Peter Hitson– is providing technology and training to support her ongoing efforts this summer to create an online platform that provides resources to victims of nonconsensual pornography, which benefits CCRI and its clients.
"Talia's idea to develop an app for victims," said Franks, "requires equal parts vision, attention to detail, tech-savvy, and coordination amongst multiple partners…[and] we are very excited to see how it develops!"
More on Miami Law's HOPE Public Interest Resource Center
More on the Cyber Civil Rights Initiative housed at Miami Law