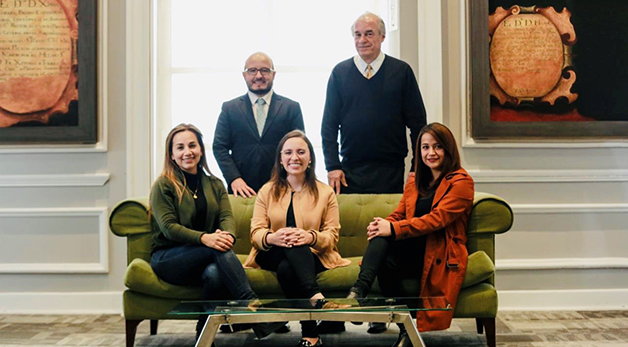 Professor John Rooney (back row, right) with the faculty of the University of Rosario
Professor John H. Rooney, Jr., who serves as an adjunct professor and is a member of the prestigious faculty in Miami Law's J.D. and White & Case International Arbitration LL.M. Programs, recently lectured at the Faculty of Jurisprudence at the University of Rosario, Bogotá, Colombia as a Fulbright Specialist.
Expert Adjunct in Areas of International Law and Arbitration
Professor Rooney is a sole practitioner in Miami, having been a partner at Shutts & Bowen LLP, Miami. He has spent more than twenty years advising clients on international business and has experience in transactions, litigation, and arbitration. At Miami Law, he teaches a seminar on "International Commercial Arbitration" as part of the International Arbitration LL.M. curriculum and a course on "International Business Transactions" as part of the regular J.D. law school curriculum.
John Rooney has been selected as a Fulbright Specialist by the J. William Fulbright Foreign Scholarship Board and the U.S. Department of State, Bureau of Educational and Cultural Affairs. The Fulbright grant has been co-funded by the Fulbright Commission in Colombia and the Instituto Colombiano de Crédito Educativo y Estudios Técnicos en el Exterior.  This project is directly administered by the Fulbright Commission in Colombia. The Fulbright Specialist Program sends highly qualified U.S. faculty to work on diverse short-term collaborative projects focused on education and training at academic institutions abroad.
Extension of Miami Law Collaboration with U Rosario
Miami law currently has an agreement of collaboration with the Faculty of Jurisprudence at the University of Rosario under which Miami Law provides a scholarship of $15,000 USD toward the LL.M. tuition fees for up to four graduates nominated by the University of Rosario to attend one of Miami Law's LL.M. programs. 
Professor Rooney lectured in the areas of common law contracts, international commercial agreements, and international commercial arbitration. Reflecting on the experience, Rooney says, "I had a wonderful experience lecturing at the law school of the Universidad del Rosario. The quality of professors and students was outstanding, and the university did everything possible to make my stay pleasant and enjoyable. I am confident that the contacts and friendships that I made will endure and that will form the basis for close and continued cooperation between our institutions." 
Professor Enrique Prieto-Rios, Director de Investigación at the Faculty of Law of the University of Rosario says, "The visit of Professor Rooney was an excellent opportunity for faculty members and students at Universidad del Rosario to broaden their knowledge on U.S. legal system, especially in matters related contracts and arbitration. Professor Rooney's visit was also an opportunity to strength institutional links between Universidad del Rosario School of Law and the University of Miami School of Law in terms of mobility and research. We look forward to the following steps after his visit and hope to have him again in our University."
Reflection of International Arbitration and Law Faculty Prominence
"We are thrilled that Professor Rooney was selected for this prestigious program. This is an amazing accomplishment and a reflection of Professor Rooney's expertise and professional recognition in the international legal community in Miami and beyond. We are proud to have such distinguished professionals on our international arbitration faculty," says Sandra Friedrich, Lecturer in Law and Director of Miami Law's International Arbitration Institute and White & Case International Arbitration LL.M. Program.
Yasmina Assis, Associate Director of Miami Law's International Graduate Law Programs, adds, "This was a great opportunity that allowed Professor Rooney to meet academics in different areas of law and seek areas of common interest for future academic collaboration between the two institutions. The Faculty of Jurisprudence at the University of Rosario is considered among the best in Colombia for the high standards of its programs and the quality of its professors. It is a university with a global approach and open to the world."
More on the International Arbitration LL.M. 
More on Scholarships with Colombian Universities 
More on International Law Expertise at Miami Law