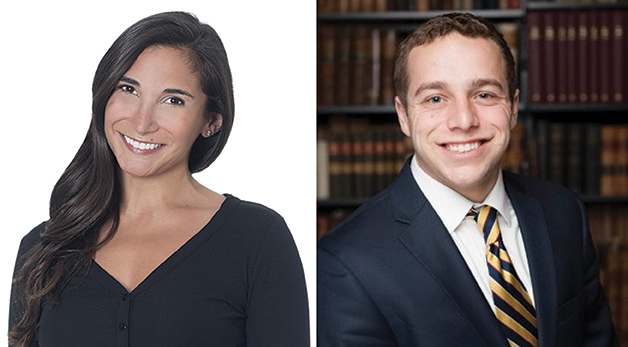 Jamie Lincenberg & Evan Green
Graduates of our Entertainment, Arts, and Sports Law LL.M. Program consistently credit their professional success to the network, career opportunities and knowledge they acquired during their time at Miami Law. 
Entertainment Attorney in L.A. & Sports Attorney in NYC
Jamie Lincenberg J.D./LL.M. '16 is an associate in the Entertainment Group at Weintraub Tobin. Prior she worked in business and legal affairs in Lionsgate's television group. 
Evan Green, J.D./LL.M. '17 in Entertainment, Arts, and Sports Law works in New York City as an Arbitration and Contracts Coordinator in the baseball division at Creative Artists Agency, one of the most prestigious sports agencies in the U.S. 
Why the EASL LL.M.?
Lincenberg went to law school with the specific goal to practice one day in the entertainment industry, so deciding to join the EASL LL.M. was an easy decision for her to make. 
"I knew that I wanted to take advantage of my three years of law school by participating in a community that could provide the tools to translate the lessons learned in school into practical, applicable skills. When I joined the LL.M., it was the first year of the program and I am proud to be a part of the inaugural graduating class."
How Practical Learning Has Assisted Career Paths
Both Green and Lincenberg attribute the hands-on support, specialized education and real opportunities provided through the LL.M., as instrumental in their career paths.  
Lincenberg feels her externships "outside of the classroom" and constant "networking within the entertainment law community in and out of Miami" were key. In addition mentorship from her "exceptional professors and program directors of the LL.M." proved exceptional when she moved to Los Angeles and "navigated my way into the profession." 
Value of Summer Internships
During his 2L summer, Green gained valuable hands-on experience working in Labor Law at Disney which would eventually help him in the sports law field. "That was actually a really good springboard because it worked with a lot of collective bargaining and labor law topics that then applies to the sports law landscape." 
In a video discussing the experience after his summer at Disney, Green commented that "the summer had several issues that came up that really prepared me well for a job in the entertainment or sports industry…overall this internship really helped me prepare for a job coming out of law school in the field."
The following summer, Green completed a practicum at Roc Nation Sports where he assisted in contract drafting, reporting directly to the General Counsel. In that role, he took on more responsibility than was asked of him: "Finding ways to make yourself useful is pretty important I would say. They didn't ask me to do a lot of that stuff," he said. "I was treating every day as a job interview so if I had downtime I would just find something else to do." 
Courses and Faculty That Had a Particular Impact
For Lincenberg, being part of the LL.M. allowed her to not only take specialized courses tailored towards her exact interests but also study with incredibly knowledgeable professors. "I especially enjoyed my 'Art of the Deal' seminar with Professor Harold Flegelman, 'Art Law' course with Professor Stephen Urice and 'Intellectual Property Litigation' course with Professor Vivek Jayaram." 
  
Green feels the sports law coursework gave him an edge when interviewing for jobs after law school,  "The coursework helped a lot and was really good for when you're in an interview setting because you can speak much more knowledgeable on a topic than if you didn't take a lot of the classes the Miami offers." 
More on the Entertainment, Arts, and Sports Law LL.M. Program