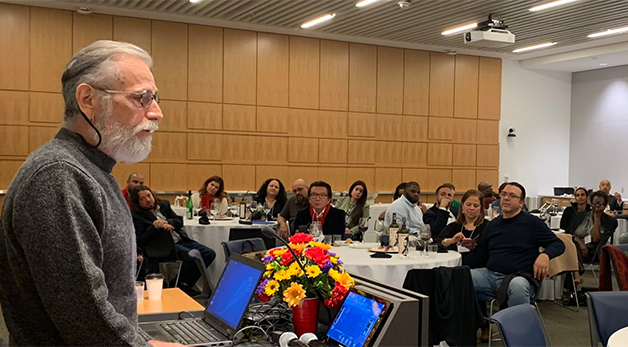 Professor Francisco Valdes 
Miami Law's Francisco Valdes was honored with the first Francisco Valdes Critical Pioneer Award at the LatCrit Biennial Conference at the Georgia State University College of Law.
Valdes' work focuses on constitutional law and theory, Latina/o legal studies, critical outsider jurisprudence, and Queer scholarship. Since 1995, Valdes has contributed regularly to LatCrit symposia and publications to help elucidate LatCrit approaches to knowledge-production, critical theory, and academic activism. During this time, Valdes' work on constitutional theory, critical race studies, and queer scholarship also has been published in numerous law reviews, other academic journals and various book anthologies, including both specialty and mainstream venues.
"What an honor to speak at the LatCrit 2019 celebrating Miami Law's Professor Frank Valdes," said Dean and M. Minnette Massey Professor of Law Anthony E. Varona," and presenting him with the first Francisco Valdes Critical Pioneer Award, which will honor preeminent critical legal scholars whose work, like Frank's, transforms law, legal theory and praxis."
Latina & Latino Critical Legal Theory, also known as LatCrit, originally emerged out of a series of debates stemming from various Critical Race Theory meetings during the late 1980s and early 1990s. LatCrit has grown from a series of annual meetings to a collection of initiatives and projects with both a local and global presence.
"Frank has made an indelible mark on the legal academy as a teacher, an innovator, and a leader," said Vice Dean Andrew Dawson. "We are proud to have him as a colleague here, but his footprint is much larger than Miami Law. This award honors and reflects his contributions to the legal academy."
Currently, Valdes is working with other RaceCrit/LatCrit scholars on Social Justice in Local and Global Contexts: From Critical Theory to Legal Action, a multi-media theory-practice reader based on critical outsider jurisprudence for West Publishing.
"It is appropriate that an award named for Frank is the Pioneer Award," said Donna Coker, professor of law and Dean's Distinguished Scholar. "Frank has been a pioneer, both in terms of his scholarship and in his leadership of LatCrit. Frank, along with UM Law's Lisa Iglesias, were among the original founders of the LatCrit movement. Many scholars across disciplines, as well as students, have found an intellectual home in LatCrit. Frank's work has always pushed the boundaries of law and social justice work. Miami Law is fortunate that Frank made UM his home."