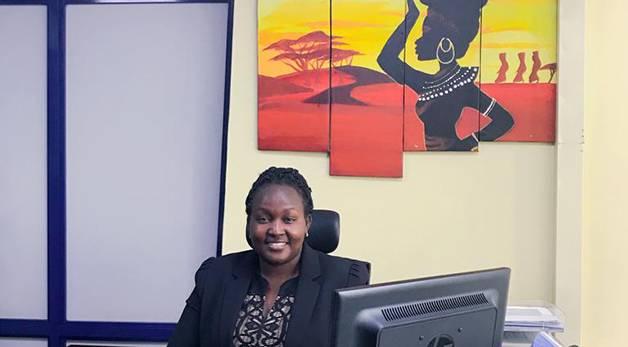 Victoria Kigen, LL.M.'17
In August 2019 University of Miami White & Case International Arbitration LL.M. graduate Victoria Kigen, LL.M. '17 began a new position as Case Counsel for the Nairobi Centre for International Arbitration in Kenya. The Centre, founded in 2013, administers domestic and international disputes under the NCIA Arbitration and Mediation Rules and organizes important training and accreditation events in the region. It is one of the key institutions in the region.
Victoria Kigen began her studies at the International Arbitration LL.M. in 2016 and was the program's first-ever student from Sub-Saharan Africa. During her studies, Kigen was the recipient of the IA LL.M. Program's prestigious International Arbitration Institute Scholarship and worked as a research assistant to the International Arbitration Institute on several cutting-edge projects.
Now as a Case Counsel, Kigen is involved in a wide variety of day-to-day activities, such as formulating and implementing policies and strategies for the Centre's Case Management Department, assisting in the administration of the registry and cases registered by the Centre, and ensuring compliance by parties of the relevant laws, rules and other case management protocols applicable to a case.
She further assists in the Centre's important policy development initiatives including proposing revision of the Centre's Rules, Codes of Practice and Guidelines, issuing advisories on enforcement of arbitral awards and assisting the Arbitral Court with case reports, the collection of empirical data pertinent to the field and the comparative legal analyses on a range of issues identifying legal and policy issues and proposing appropriate solutions.
In her new role, Kigen also is working on major research projects, such as the Centre's 2018/2019 Annual Casework Report. As the Report indicates, the Centre has registered fourteen new disputes over the 2018/2019 period, demonstrating an upward momentum in dispute referrals since the inception of the NCIA Rules in late 2015.
"The Report further shows that the overall case value has risen to $25,000,000 representing a 97.56% growth from the previous year and 100% over the first year of NCIA Arbitration Rules," Kigen explained. Kigen also is involved in strategic development and the planning of important training and accreditation events, such as the Center's Second International Arbitration Conference in March 2020, which will attract practitioners from the entire region.
"We are thrilled to see Victoria succeed in her international arbitration career. This is an amazing accomplishment and a reflection of her hard work and dedication to her studies and professional commitments. We are proud to have such distinguished alumni around the globe," says Sandra Friedrich, Lecturer in Law and Director of Miami Law's International Arbitration Institute and White & Case International Arbitration LL.M. Program.
Next year, Kigen will take on additional chief projects, such as developing research papers on best practices and emerging ADR trends for publication in the NCIA Journal, preparing Draft Arbitral Court Rules, developing a handbook on ADR, and conducting a strategic benchmarking and study tour of established ADR Centers.
Kigen attributes much of her recent success to her involvement with Miami Law and its International Arbitration LL.M. Program. "Miami Law's International Arbitration LL.M. has equipped me with International Arbitration skills and provided a practical experience through lectures, workshops, seminars, and attending arbitration conferences," wrote Kigen. "What is unique about the LL.M. Program," Kigen went on to say, "is that it provides close interactions with renowned professors and practitioners, something I had not experienced before."
Kigen also highlighted the opportunities provided by the International Arbitration LL.M. Program to help her build networking skills. In particular, Kigen noted her ability to attend the International Institute for Conflict Prevention & Resolution Annual Meeting in Spring 2017, where Miami Law's Michael Klein Distinguished Scholar Chair Emeritus Jan Paulsson gave the keynote address. The LL.M. Program had sponsored her attendance at this event.
"I definitely would advise anyone considering an LL.M. in International Arbitration to choose Miami Law. It is an all-rounded program, with the best professors, recognized for its exceptional student diversity ratio, and a high success rate of its alumni all over the world."
More on the White & Case International Arbitration LL.M.
More on the International Arbitration Institute Scholarship