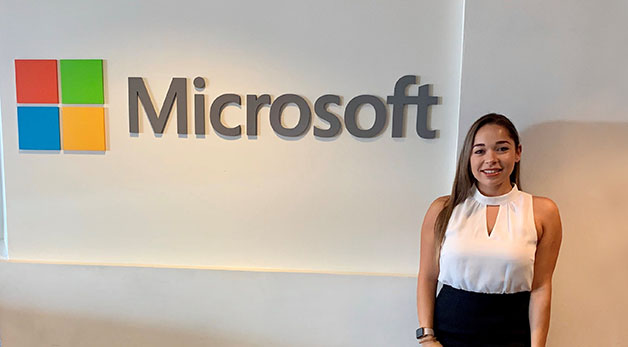 Talia Boiangin
Following up on her third-place finish in the national Law School Admission Council's Inaugural Justice Innovation Challenge, third-year Talia Boiangin recently traveled to Washington D.C. to present her Cyber Civil Rights Resource Guide, an accessible resource guide for victims of online abuse. She also received her $5,000 award and represented Miami Law School alongside the other two winners from Columbia Law and Georgetown Law.
"Technology has great promise to enable the delivery of justice to those who currently have no means of obtaining the legal assistance they need and deserve. However, technology is merely the result of smart principled individuals focusing their talent on addressing society's unmet needs, and it is those individuals, like Talia, not the things they produce, who deserve our respect, admiration, and support," said Dan Ravicher, director of Miami Law's Startup Practicum, who helped Boiangin prepare both for her initial pitch and her D.C. presentation.
"The Justice Innovation Challenge created the perfect opportunity to showcase how law students can solve complex access to justice problems using legal technology and design thinking," said Boiangin. "Nonprofit organizations spend too much money a year trying to provide resources to people who need it most. My solution aims to reduce costs through an AI-powered web application that provides resources in a few simple questions. Using the Neota Logic development platform, I created a resource guide for Cyber Civil Rights Initiative that provides relevant state statutes and removal guides to people who want to remove intimate images that have been posted online without their consent. With the help of Carlton Fields, my solution will soon go live and provide resources to people who have been the target of nonconsensual pornography."
The Law School Admission Council is a not-for-profit organization committed to promoting quality, access, and equity in law and education worldwide. The LSAC's Access to Justice Tech Fellows program equips next-gen lawyers with the knowledge and skills to reimagine, reinvent & reengineer our civil justice system. Microsoft supports the Access to Justice Tech Fellows program because they want to employ their tech expertise to empower those organizations in communities impacting access to justice.
"These projects highlight the collaboration of legal expertise with the expertise of organizations grounded in their communities fighting to increase access to justice," said Elizabeth Grossman of Microsoft's Cities Team, Civic Engagement.
The challenge, which was open to any law student from across the country, asked teams to pitch innovative, technology-based solutions that could aid nonprofit legal services organizations in overcoming access to justice hurdles in the United States. Boiangin's entry was one of only three chosen from more than 60 submissions from law students around the country for a prize and all expenses paid trip to Washington D.C. to present.
"I am honored that I got to represent Miami Law, a school that continuously supports innovative and technological programs such as LawWithoutWalls, the Startup Practicum, WeRobot, and more," Boiangin said.