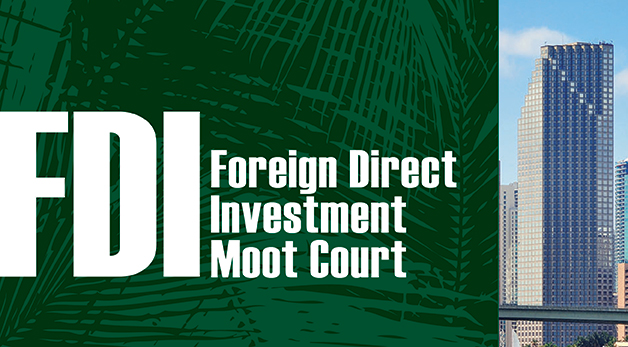 The Foreign Direct Investment International Arbitration Moot is one of the most prestigious gatherings of academics and practitioners from around the world to discuss developments and gain a greater understanding of growing international investment, the creation of international investment treaties, domestic legislation, and international investment contracts.
The finals, or Global Rounds, will be held at the University of Miami School of Law from November 7 through 10, hosting 57 student teams from 38 countries. The final round of the competition will be judged by the titans of international arbitration, including three Miami Law IA LL.M. adjunct faculty: White & Case D.C. partner Carolyn Lamm, J.D. '73, and Miami Law IA LL.M. Distinguished Faculty Chair; Hughes Hubburd Miami partner Luis O'Naghten, president-elect of the Miami International Arbitration Society; and Reed Smith partner M. Cristina Cárdenas, LL.M. '04 and immediate past-president MIAS.
"I believe that Miami Law was chosen to host the 2019 FDI Moot because both the School of Law and the city of Miami are prominently positioned for the study and practice of international investment law and arbitration," says Sandra Friedrich, director of Miami Law's International Arbitration Institute and White & Case International Arbitration LL.M. Program.
The moot spans six months each year in two phases: written memorials for claimant and respondent, and the hearing of oral argument with regional or national rounds for Asia Pacific in Seoul, South Asia in New Delhi, Southern Africa in Pretoria, Kenya in Nairobi, Ethiopia in Dire Dawa, and Viet Nam in Ho Chi Minh City. Pre-moots are held in Budapest, Dublin, St. Petersburg, São Paulo, and Warsaw.
The FDI Moot was initiated in 2006 by the Center for International Legal Studies in Salzburg, Austria, as an international moot court competition focusing on investor-state disputes. The venue for Global Finals normally rotates among the four co-founders: the German Institute of Arbitration, King's College London, Suffolk University Law School, and Pepperdine University School of Law. Occasionally, the FDI Moot goes off-circuit as it will next week when Miami Law will host the notable competition for the first time.
"It also is a testament to Miami's growing importance as an arbitral seat and its growing community of experienced international arbitration practitioners, many of whom will serve as arbitrators in the 2019 Moot," Friedrich says.