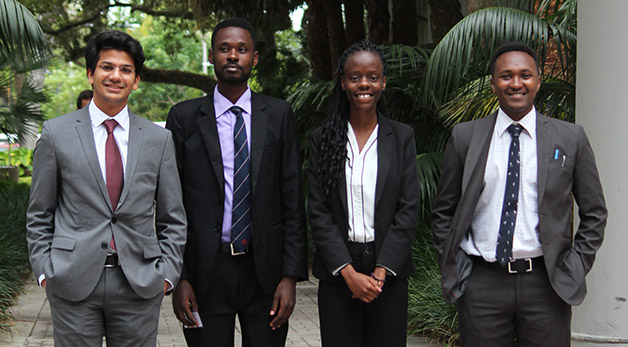 African Nazarene University School of Law moot team
Three social media platforms launch in a country, attracting millions of followers. Two years later, the government blocks operations, accusing the platforms of spreading hate speech, giving them 60 days to filter prejudicial content and provide access to users' personal details.
Such was the case that brought more than 300 students and 130 judges to the University of Miami School of Law recently for the four days of the 2019 Global Oral Hearings of the Foreign Direct Investment International Arbitration Moot Competition in cooperation with the Center for International Legal Studies in Salzburg, Austria. With its commitment to international arbitration, Miami Law has also offered any present or past student participant, coach or arbitrator in the FDI Moot competition one half-tuition scholarship to attend any of its LL.M. programs. 
56 International Teams Converged for the Moot Final
Many of the 56 teams came to Miami after winning seats through regional rounds and had been preparing for eight months. The teams, ranging from two- to 10-man teams, competed in pre-moots, various national rounds and Africa, Asia Pacific, and South Asia regional rounds before rising to the FDI Global, which usually rotates among the four co-founders: the German Institute of Arbitration, King's College London, Suffolk University Law School and Pepperdine University School of Law. Occasionally, the FDI Moot goes off-circuit as it did this year when Miami Law hosted for the first time.
Teams All the Way from Kenya, Africa
African Nazarene University School of Law team's journey was not just about the almost 8,000 miles to Miami from the school that sits in the middle of the Maasai savannah next to the Nairobi National Park in Kenya, but the law students had only started tackling international law in prepping for the moot.
"We are very proud of them for this achievement and so are our stakeholders back in Kenya," says their professor, Juliana Njiriri. "This year ANU law school presented a very special team because it comprised second-year students who have not gone through any international law unit in their LLB program. They have shown resilience, dedication, and commitment to learn new areas away from class."
Known by their FDI Moot alias, the three-member "Team Morelli" appeared confident and prepared as they parried and feinted through the round-filled days leading up to the finals. Though they did not ultimately conquer, the experience itself was invaluable.
"The team worked hard and acquitted themselves with an impressive display of maturity and poise throughout the Moot," says Three Crowns associate and coach Mihir Chattopadhyay. "We found the experience a rewarding one, and I look forward to following with interest the students' careers in the years to come."
Key Event for Future Lawyers Interested in International Investment Law
The important educational event helps future lawyers attain a practical understanding of the complex and ever-evolving issues that arise in international investment law and provides a forum for practitioners and academics in the field to discuss cutting-edge developments.
"I think what surprised us was the level of competition," says team ANU member Martin Kariuki. "Having won the Africa Regionals, we thought that the Global Rounds would be easy, but that was not the case. The teams were well prepared, and it was a survival of the fittest."
The moot competition also provided a great opportunity to highlight the University of Miami's hemispheric and global reach. "The FDI Moot Miami showcased Miami Law's long-standing tradition and expertise in the international arbitration field as well as Miami's rising importance as an arbitration hub – the second-busiest arbitral seat in the nation after New York City with more cases seated in Miami than are seated in Washington, D.C., Atlanta, and Chicago combined.
Miami Locale and Unique Infrastructure for International Arbitration
"Miami's ever-growing community of experienced international arbitration practitioners, many of whom serve on our International Arbitration LL.M. adjunct faculty and support Miami Law's program by offering students externship placements and/or post-graduation positions," says Sandra Friedrich, lecturer in law and director of Miami Law's International Arbitration Institute and LL.M. Program.
"The competition was an eye-opener in many ways, and I enjoyed the experience," says ANU team member David Salaton Lemayian Jr. "I thought that appearing before different experts was very fulfilling and the nature of the questions were challenging. I now have a hunger to put in more work in the library to learn about different legal issues so that I can become an arbitrator in the future."
The Sunday finale served up a riveting match between St. Petersburg State University and Moscow State Institute of International Relations, with the team from St. Petersburg winning the competition.
"I have learned that I can compete with the world's best. My research skills and ability to organize my thoughts have grown tremendously," says ANU team captain Grace Zawadi. "The moot experience has been amazing. I would like to express my gratitude to the organizers, my coaches, and my university."
****************************************
About the FDI Moot Scholarship Opportunity
With the goal of educating the next generation of international arbitration lawyers, in addition to its other scholarship offerings, Miami Law offers one half-tuition scholarship (currently $26,500) to a present or past student participant, coach or arbitrator in the FDI Moot competition to attend any of its LL.M. programs, including its top-ranked White & Case International Arbitration LL.M. Moreover, the $50 application fee is waived for any FDI Moot participant who applies for admission to the LL.M. through Miami Law's online application system.