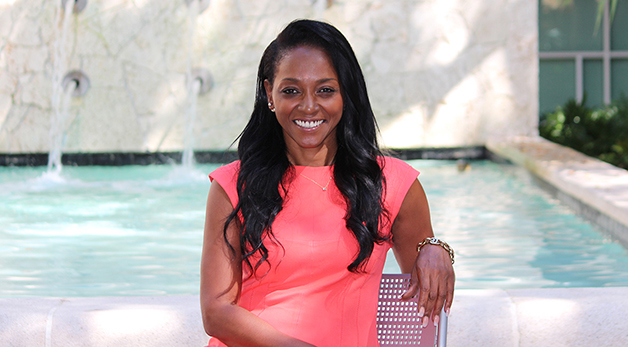 Montrece McNeill Ransom
Montrece McNeill Ransom delivered a talk, "How Does the Law Affect Public Health?" to a lunchtime crowd at Miami Law, which was sponsored by the Health Law Association. She talked to students about the transdisciplinary career paths in public health law beyond legal practice.
Ransom is a senior public health analyst and team lead for Public Health Law Training and Workforce Development in the Center for Disease Control's Office for State, Tribal, Local, and Territorial Support. She helps develop and deliver training aimed at increasing the capacity of public health practitioners across governmental levels to understand and use the law to advance public health goals. Previously, she directed the CDC Community Public Health Legal Preparedness Initiative, served as the lead coordinator for the CDC's annual Public Health Law Conference, and developed novel partnerships between CDC, the American Bar Association, and the American Health Lawyers Association.
Ransom began her career in 2001 as a Presidential Management Fellow. She has presented trainings, taught courses, and published on a broad range of topics including public health emergency law, tribal public health law, health disparities, careers in public health, and environmental public health law.
Q: What does the office of State, Tribal, Local, and Territorial Support at the CDC do?
MMR: The STLT Public Health Attorney Institute is a new training initiative offered by PHLP, and consists of an intensive 2.5-day course designed specifically for attorneys who have been representing a STLT health agency for three years or less. The Institute provides an opportunity for these attorneys to fully immerse themselves in CDC culture in an invitation-only, interactive, boot-camp style training. Attendees are exposed to the mission and vision of the CDC, participate in competency-based training on the legal foundations for, and the role of law in, public health practice, and learn best practices in public health law from experts in the field.
Q. What does law have to do with public health?
MMR: I can't think of one public health issue or challenge that can be solved without some contribution of a legal or policy solution. And, from my perspective, there is no public health without the law. From the creation of a health department, which is done by statute, or the passing of a clean indoor air ordinance, it is law that creates the framework that helps make healthy choices the norm. Once we understand the science and evidence-based, it takes the strategic power of the law to move us to lasting changes in health outcomes.
Q. At the University of Alabama School of Law, you concentrated on employment law. How did you become interested in health law and policy?
MMR: I've wanted to be a lawyer since I was about 8 years old. In law school, I focused on employment law, but quickly realized I wasn't interested in a traditional legal career, and I committed to a career in public service, in some capacity.
When I was appointed as a Presidential Management Fellow to CDC, I wasn't sure how my law degree or legal skillset would be used. But, a series of experiences, including serving in the CDC Emergency Operations Center after the 9/11 attacks less than six months after my appointment, and a series of mentors, including Gene Matthews, former CDC General Counsel and others, helped me to understand the important role that law plays in advancing public health goals, and helped me gain the confidence to pursue my career and make a place for myself in public health law.
Q. What advice would you give law students interested in public health?
MMR: Bloom where you are planted! Don't get boxed into your dream career plan, but make sure you follow your heart. My undergraduate degree is in speech communications, and I thought I'd end up as a corporate trainer. I went on to law school, and was considering a career in employment law. When I was appointed as a PMF, I chose CDC primarily because it was in Atlanta, and my parents had retired in Augusta, Georgia – I wanted to be close to my family. I had no real idea of what public health was, and I told myself I'd stay at CDC for 2 years and then move on to a more "law-focused" career.
When I arrived at CDC, I quickly found mentors who helped me hone in on my personal skill set, and passions, and I dove into the substance of public health, which helped me understand and articulate, how I – as a lawyer, not in OGC, in an agency full of scientists – could add value to the CDC. Sixteen years, and so, many incredible experiences later, I am now at the point in my career where I've hit the sweet spot – I am effectively working at the intersection of corporate training, law, and public health. I am the happiest I've been in my career, but only because I bloomed where I was planted.
More on Miami Law's Joint Degree in Law and Public Health