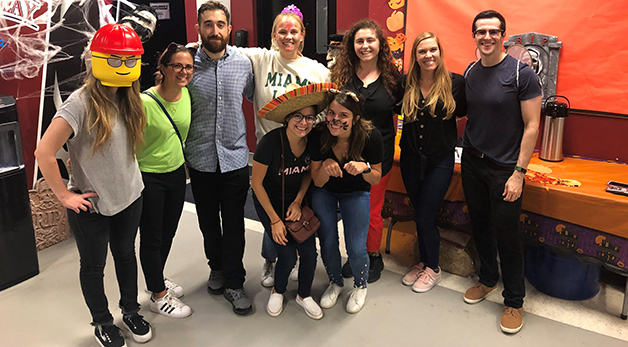 Miami Law students at Halloween party at Chapman Partnership Homeless Shelter
Miami Law students share a deep commitment to serving the community via public service and student organizations, and this fall was filled with examples of their dedication.
Eco-Restoration of the Steinberg Nature Center at the Tropical Audubon Society
Miami Law's chapter of Phi Alpha Delta Law Fraternity coordinated with the Tropical Audubon Society to participate in eco-restoration at the Steinberg Nature Center. Miami Law students and FIU pre-law students joined members of the public, as well as State Forester Mark Torok, for the event. The eco-restoration project was a part of Working Forest Week. Participants removed invasive species of plants and resurfaced and mulched in order to maintain the property, which is a nature and educational center. 2L Emma Kooy helped to organize the community service initiative. "Seeing everyone show up to help with the eco-restoration reminded me of how it only takes a few people to make a difference in our community."
Halloween Party for Children Residing at Chapman Partnership Homeless Shelter
Ten Miami Law students continued the series of community service initiatives with a Halloween party for children residing at Chapman Partnership Homeless Shelter. Chapman Partnership helps the homeless by providing a comprehensive support program that includes emergency housing, meals, health, dental and psychiatric care, daycare, job training, job placement, and assistance with securing stable housing. The idea sprouted when 1L Miami Public Interest Scholars Beatriz Garcia and Olivia Parise volunteered at Chapman Partnership Homeless Shelter during HOPE Day of Service, a service event that kicks off the school year.
"We really enjoyed our time there and we knew we had to go back, so we started to plan an event at their Family Resource Center and we ended up picking Halloween as a good time to go," said Garcia, speaking on behalf of herself and Parise. Prior to the Halloween party, Garcia and Parise organized a collection drive for accessories and supplies that were used as costumes and decorations for the event.
"Hosting a Halloween Field Day for the kids at Chapman Partnership was a truly rewarding experience. It was great to see all the smiles and laughs not only on the kids' faces but on all the volunteers who came to help out," said Garcia, "The team at Chapman Partnership works incredibly hard every day to make their residents feel welcomed and comfortable and it was great to be a small part of that. My favorite part was playing with the kids and getting a chance to know them and see all of their amazing personalities shine."
Special Olympics Training at the WOW Center
Another event inspired by Miami Law's annual HOPE Day of Service took place at the WOW Center. The WOW Center provides programs and support to individuals with developmental disabilities to assist them in leading meaningful and productive lives, explore their potential, develop a sense of community and pursue independence and jobs if able. 2L Vanessa Pryor had never heard of the WOW Center before being assigned to the organization as a site leader for HOPE Day in August.
"Going to the WOW Center for HOPE Day was a ton of fun. The 1L volunteers that I had the opportunity to supervise were great with the WOW Center students and they even got put to the test in basketball and kickball. I knew we had to come back and spend more time at the WOW Center. The students there touch everybody they meet with love and joy," Pryor said.
Pryor coordinated with the HOPE Public Interest Resource Center, the Director of Operations at the WOW Center, and Miami Law Women to plan another community service event where law students assisted in training individuals at the WOW Center for the Special Olympics. "The day was a blast. We got to play with and against the WOW Center's top team for the sport of basketball. They were amazing! We were playing for almost two hours straight and the WOW Center students never let up once. On top of their great effort, they had smiles on their faces the entire time," said Pryor.
The inspiration and enthusiasm that sprung from this event have encouraged its sponsors, the HOPE Public Interest Resource Center and Miami Law Women, to support future events at the WOW Center. "Originally, the purpose of the event was to help out an underserved and under-appreciated community of people. But I think every volunteer realized that day that we gained more volunteering than the WOW Center gained by having us there," Pryor added, "Taking a break from the demands of law school to spend time with people who are nothing but friendly, welcoming and cheerful really affected each and every one of us in the most positive way."
Donation Drive for Kristi House
The most recent community service initiative led by law students was the Donation Drive for Kristi House championed by the Society of Bar and Gavel. Kristi House is the exclusive child advocacy center in Miami-Dade County responsible for coordinating the systems of care for child victims of abuse and sex trafficking. The donation drive stemmed from a conversation between student leaders and HOPE about how to serve community partners on their terms.
"The Society of Bar and Gavel has a proud tradition of working with HOPE to ensure that our service projects take into account the needs and input of stakeholders," said 3L Romney Manassa, President of Bar and Gavel and one of the leaders who facilitated the collection drive. Kristi House seeks to maintain a fully stocked pantry with food, diapers, school supplies and toys for the over 1,400 children and families they serve yearly. Most of the families that are part of the Kristi House have extremely limited resources, so the donations were exceptionally valuable. "Being involved feels immensely gratifying, not only because we are helping the exclusive child advocacy center in Miami-Dade County, but because we are doing so on their terms based on what they need," Manassa added. "Law school can feel removed both physically and emotionally from the rest of our diverse but often under-served community. Engaging with agencies such as Kristi House helps our students cultivate a public interest ethic in everything we do."
If you are a Miami Law student interested in planning a service event, please contact the HOPE Office at umhope@law.miami.edu for assistance with ideas and planning.
More on Public Interest Opportunities at Miami Law